Viral content marketing is often unpredictable.
Why does some content go viral while other content falls short?
To discuss viral content, Jim Boykin, CEO of Internet Marketing Ninjas, and Ann Smarty, IMN's analyst, invited Rand Fishkin, Co-founder SparkToro, founder and former CEO of Moz and author of Lost and Founder: A Painfully Honest Field Guide to the Startup World.
---
There are four main reasons why some content fails to spread:
Wrong content: Whatever you are creating is not the right thing to create.
Failure to target "amplifiers": This content is great but it doesn't resonate with people who have an ability to amplify it. When creating content, ask yourself an important question: Who would share or link to this? What would be their motivation behind amplifying this content?
Serendipity and timing: Oftentimes the timing is wrong for whatever reason. The same content may spread at a different time, so keep promoting it or keep trying. Ross Simmonds from Foundation Inc. says that if you produced content in the past and you think it has the potential to reach a lot of people and be useful to them, you should be promoting it regularly. Don't just sit on it.
Quality: This content is just not good enough to go viral.
---
Crafting successful viral content
Rand has written this article on crafting successful content: Hook, Line, and Sinker: A Model for Crafting Successful, Viral Content
The basic ideas is that:
Your title should create a hook: "Oh, I am really curious about this"
The sinker, i.e. the opening paragraph (or first 30 seconds of a video or a podcast) should grab your attention and deliver on the promise from the hook.
---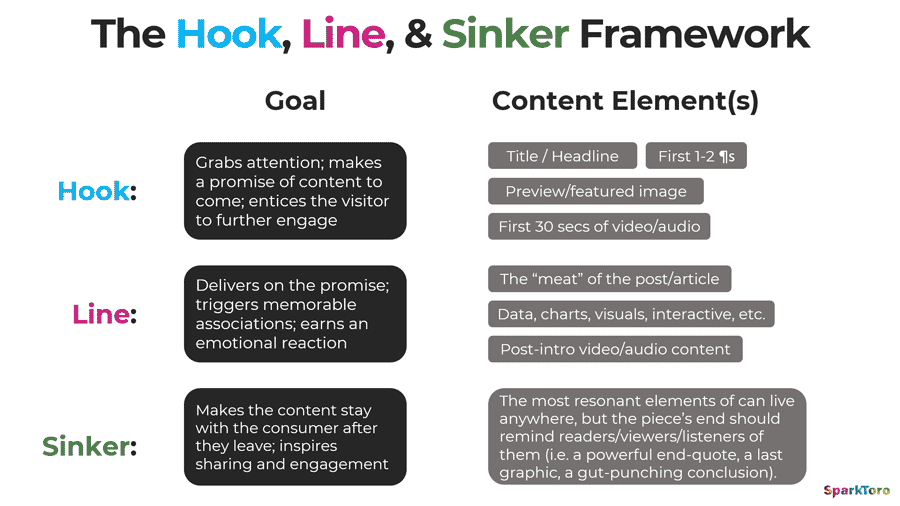 The hook makes a promise, and the sinker delivers it.
When sharing your content on social media, use your hook to entice people to get curious and click.
Contact ninjas for us to create viral content for your site!