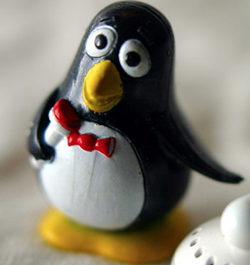 There's an interesting thread over at SEOchat forums discussing the possible ways to recover from the ranking drop caused by Penguin update.
One of the most interesting points being discussed: "Does backlink removal make sense?"
Let's first see what Penguin is actually is.
Algorithm Update vs Penalty
Your website rankings may drop because of either a penalty or an algorithm update. There's no perfect way to distinguish between the two but here's what I would do: If you see no one else on the web discussing ranking drop on a specific day and you see some handy notices in your Google Webmaster Tools account saying that you are using prohibited tactics, that might be a penalty.
If your rankings drop and you see all the the SEO forums discussing ranking changes, that might be due to the algorithm update / refresh.
Depending on what caused the ranking drop, your recovery strategy should be different.
Just rushing to remove your links is a waste of time.
Gr8 1: "Does backlink removal make sense?" – "Not much more than painting ontop of rust with watercolor" by @MichDe

— Ann Smarty (@seosmarty) October 11, 2012
With manual penalty, removing links and submitting a reconsideration request did long ago prove to be effective. It's still not easy to get the penalty lifted, but at least that's something doable.
With the algorithm update, backlink profile clean-up might make sense, but more changes are needed, especially in the way you do link building. Note also, there is only one confirmed Penguin recovery case as yet (so we actually can't know what works and what doesn't!)
Penguin is the Algorithm Update
That means, Google is changing the way the link juice is flowing and getting smarter at defining good efficient links.
On a smaller scale, that must mean that some of your links get devalued because they were detected as artificial or low-quality or suspicious. If you know for sure which links that might be and you can remove them, I don't think there's anything wrong with that. However what really can help is your changing the way you do SEO and link building.
Here's a good quote from the thread to think over:

Further Reading:
I am mostly giving some official sources below – the reason being is that no one frankly knows. Link removal might or might not work. The thread above is only good for giving some food for thought, but not laying out the actual TO-DO action list for you… So what do we actually know about Penguin?
What are your thoughts?