LinkedIn announced a few months ago that it would be using the Open Social platform. They haven't said much since. But many were waiting for how they would handle an application directory.
Now they announced it's launch. Reid Hoffman of LinkedIn said:
"The nine applications that you see live today on LinkedIn include productivity enhancing applications from Amazon, Box.net, Google, Huddle, Six Apart, SlideShare, Tripit, and WordPress as well a Company Buzz application developed by LinkedIn. Each of these applications will help you stay current and competitive as a professional in today's rapidly changing business world."
On October 28th they opened the LinkedIn Application directory.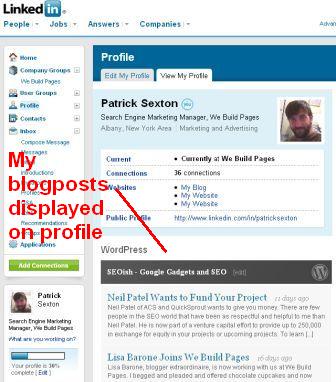 The most interesting application for those with blogs might be the WordPress one. The WordPress app was simple to install, took only seconds to do. It allows you to put your latest posts on your public Linkedn profile. To see this live, go to my LinkedIn profile.  Note: You will have to be signed in to see my "full profile", where these apps display.
SixApart (typePad), not to be outdone, also has an app. Theirs didn't work for me. So I can't really say much about it yet, but it is described as:
"With Blog Link, you can get the most of your LinkedIn relationships by connecting your blog to your LinkedIn profile. Blog Link helps you, and your professional network, stay connected."
The is a Google Presentation one as well where you can :
"Present yourself and your work. Upload a .PPT or use Google's online application to embed a presentation on your profile."
I have personally been waiting for LinkedIn to start this directory up for awhile. I have some exciting ideals for it and some extraordinarily LinkedIn appropriate apps to speak with them about.
We Build Pages will be offering widget consultation very soon as one of our services. More to come on that subject later…