If you have been following this series, you know that our goal is to find logical, easy ways to optimize web pages for search engines and web site conversions. The "secret trick" to this is the WWWWWH solution.
---
Who Where What When Why and How Details
In part four, we're going to focus on the "when" element. While I'm focusing on showing you ways to optimze your text content organically for online marketing and persuasive design, there is an added bonus on satisfying user needs too. The more you are able to establish your company as being the ultimate best in customer satsifaction, the more referrals and return traffic you receive. Guess who notices this? Search engines.
Natural page optimization is always done in text. This is because text is what search engines understand the best. Not only that, anyone using screen reader devices that "read" them pages rely heavily on text. Ignoring anyone with special needs who depends on assistive software to browse the Internet is missing out on potential sales, not to mention brand loyalty. For ecommerce targeting international sales or traffic, how they present their web pages can make or ruin their success. For example, image heavy pages on slow networks or dial-ups may be abandoned. The most common text error in global ecommerce is simply not stating on your site that your company targets international users.
---
How to Work with When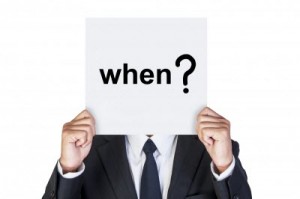 When we were working with the "what" element, the easiest rule of thumb to remember was asking yourself, "What do my visitors need and what?" By answering that question, there were countless opportunities to work in conversion oriented material.
The same rule of thumb can be applied now to the "when" element (and "why" and "how" are also fun to work with.) Remember that your goal is to approach your optimization in natural, unforced ways. There is no keyword stuffing here. We simply want to answer search query questions by providing the correct landing page response. We also want to optimize for our guests once they have arrived by offering guidance, answers, suggestions, inspiration and motivation to stay on your web site and perform tasks.
The following are page optimization suggestions for usability and search engine optimization using the "when" part of our secret code.
When do you ship your products? There are several pages that may offer this content, including each individual product page, customer service page, shipping page or FAQ. In the rush of the holiday season, an entire blog post is feasible in cases where hot items must be shipped by specific dates to be delivered on time.
When can visitors call you? This is an easy one and so often ignored. Next to your business or contact phone number add a statement such as "Call [brand/company/site name] between 8am and 5pm EST." When in text, this is found easily by a search engine query asking "When can I call [brand/company/site name]?" By adding call hours, your visitors will feel more confident about when to call, thus increasing the chances they will.
When does your newsletter arrive? One of the reasons for newsletter or email subscription abandonment is not supplying enough information to make a confident decision. Your call to action prompt for signups should include a way to learn more about what you will be sending out, and more importantly, when it will be coming.
To meet credibility and authenticity standards, the "when" element offers many opportunties to increase conversions here.In your About page, and especially in text written to present what makes your company unique and competitive, include these suggestions:

When was your company established?
When were your achievements? (Awards, certificates, degrees, etc.)
When is the next issue due?
When was the last official inspection?
When was the last [software application/brand] updated?

Ecommerce web sites must show how responsive they are and communicate steps for the purchase process.The same is true for travel, car rental, equipment rental, hotel and airline reservations, camping, and movie ticket ordering web sites. Each of these types of web sites must provide text that communicates when something has or is going to happen on the web site. Therefore, opportunties for working in product, company, brand, and other logical keywords are available by user instructions that explain:

When do I get billed
When can I print my receipt?
When can I get my schedule?
When does my hotel confirmation arrive?
When can I pick up my rental?
When will my [keyword] be delivered?
When will the out of stock [keyword] item be re-filled?
When can I order your new book (which is a keyword phrase)?
When is the latest I can check into your campground?
When do you start taking reservations?
It is a strange thing to find so many web sites that are designed as though their guests can read the minds of the entire company and especially understand what the designers expect them to do when they land on the site. We all know this is simply not true. Worse, when there is no attempt at organic search engine optimization and PPC or ad campaign strategies fail to convert.
The power of conversions is always in the small details. Answer questions when the question comes into the mind of your site visitor. Some day soon you will wonder why you waited so long to do so.