Isn't it remarkable that all these years later, since the debut of the public Internet, websites are still designed that we are unable to use?
How many fads have you seen come and go? Remember thick cell padding borders around boxes before true border design? In the late 1990's animated images were popular, and so were 3D rotating logos. Then, there was the two color web design – lime green and ocean blue. There are names for web design phases too. We experienced W1.0, W2.0, and W3.0 and if you believe in that, in the year 2020 we enter the W4.0 phase. (http://lifeboat.com/ex/web.3.0)
No matter what web designers dream up, the bottom line is that most of us still struggle with using web sites. Despite Google Analytics, traffic behavior is not understood. Eye, heat and gaze tracking offer some insight into user behavior but the most vital data isn't free, nor is analyzing it from an expert.
It's fun to be creative with web design. However, when web design interferes with user experience, someone has to stop the site from falling over the cliff.
---
It Is Known
These facts are known about people who use websites.
They don't all have 20/20 vision.

Many men are colorblind.

Poor color contrasts interfere with reading online.

Small font sizes and sometimes serif fonts interfere with reading online.

Humans are lazy and creatures of habit who dislike change. They dislike inconsistent web pages and look for common information in the same places on all web sites.

It's difficult to read with moving images close by.

It's difficult to click on a moving image.

Great customer service means a usable web site.

People use web sites differently depending on where they are on the planet.

Don't lie to site visitors.
Every web site fails at least one of these known criteria. Every web site.
---
Go Outside and Watch Your World
Whenever someone asks me for my top web design recommendation, I tell them to put down their computer devices and go outside.
I learn so much about human factors design, ecommerce, web design and usability by visiting a shopping mall, airport, library or sitting in the stands of a high school football game. For example, I had a revelation about global design one day in an airport when I saw a man reading a book from right to left instead of left to right. We tend to design based on the news that came from eye tracking that people read top to bottom, left to right.
Another example that stuck with me for years for ecommerce design came while shopping with my daughter at the mall. The sales clerk behind the counter of one of the clothing stores we stopped into was chewing gum, had her hair piled up on her head, piles of bangles on her arms, brightly painted finger nails, perfectly lined eyes and a dazzling smile. She chatted with us and talked my daughter into getting a store card and joked that I got stuck paying the bill. The experience was exactly that. An Experience. To emulate that on a web site is something most web site designers never strive for.
---
Sliders
Why do web designs seem so intent on chasing people away once they arrive?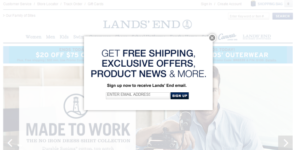 To their credit, at least the Lands' End box has an "X" to get rid of the sign up form that covers the homepage. Other sites do this but remove the ability to remove the box. They force their visitors to sign up first and then they admit them into the site.
When was the last time you chased a sales person down a street as they threw you products, special deals, and they are screaming "click here" and "learn more" at the top of their lungs? This is the slider experience.
Elegant Themes recently ran a survey of their customers seeking feedback on their designs, which I felt was very smart. I used the opportunity to offer my opinions on their use of sliders that come with every template. When new template designs continued to be launched with sliders I decided I was outnumbered. However, they do seem to be trying to offer varying styles and better modification options for their sliders.
---
Do sliders convert?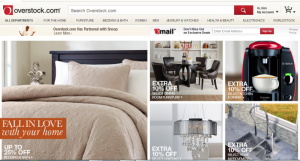 This is not a yes or no question. The answer is in the design of the slider. Overstock has large images above the "page fold" of their homepage but they don't move. There is a large "Hero" image and several smaller images to the right. The call to action is the content itself rather than a "Click here". They offer an incentive and clear description for where the click will take their visitors. Below this are more images, also static.
The public utility site, PPL, is an electric company in Pennsylvania. It has two sliders.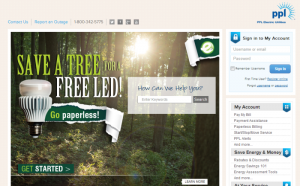 Why do people go to an electric company web site? It's likely they have a question about their bill or wish to report an outage. If distractions are a problem, finding the text link to report an outage may be difficult. I tested the color contrast of the blue text against the colored background and it failed.
There are recommendations for making sliders user friendly. This recent article, Designing Effective Carousels: Create a Fanciful Amusement, Not a House of Horrors has a nice list.
Does your company have website designers skilled in user experience design for all users? Does your company consider accessibility compliance and do your designers understand what that is? Are you testing your web pages with the people you are targeting rather than segments of people who are not your target market? Where is the main path to conversions on your homepage and all landing pages?
There is a severe shortage of experienced usability and user experience web designers around the world. You would be wise to hire a company that performs persuasive design and usability web site audits. Following their recommendations could mean the difference between your business and your competition.