Whenever the term "usability" is mentioned in discussions with a web site owner, I feel like I just asked them to eat the worm from the Tequila bottle.
Regardless of the fact that search engine companies have usability departments, usability work remains a blocker in discussions with web site owners interested in Internet marketing.  A user friendly website is not something an enormous number of companies want to invest in.  There are some taboo topics that always come up when discussing a client web site.  Does it work properly is one of them.
This issue with website usability is not confined to smaller companies, startups and beginners.  In fact, these site owners tend to be easier to talk to about the condition of their site.  Many of them want guidance.  It is the larger corporate sites where I find the most site issues and a "See No Evil" mind-set.
There is an unspoken rule (if you are smart) to never respond to the dreaded, "Does this make me look fat?" question.  The workaround is to lie, be silent, offer constructive feedback or change the subject.  It's always entertaining to me when I talk to site owners who know my work.  They are nervous.  The conversations go like this:
"Hi Kim.  I love what you do.  Please don't look at my site.  It's a mess."  Chances are it is not, but this belief that I am judging their site is there.  Most web site owners know for a fact that their websites are not as good as they would like, but they don't want to know that we think that.  Nobody wants to look at the truth because it may mean making changes and those changes are going to be painful because they cost time and money.
---
Know Your People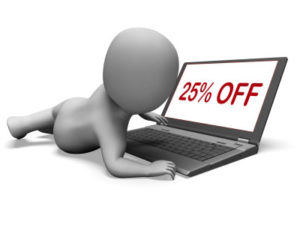 Since we know that everyone, sooner or later, has a bad experience on a website they visited, what can you do to make your website better? If you think the entire conversions process, for example, depends on the design, you are partly correct.  The trick is understanding who the site is designed for. Let's start there.
The needs of a blogger are different than the needs of an ecommerce website.  The needs of a manufacturing supplies website are different from a clothing website, even though both have gigantic inventories.  A company that has re-sellers who use templates to sell their products have a different needs from someone who is, for example, a kitchen crafter with a money making hobby and sells their crafts online.
Your chances for success depend on how well you know the people visiting your site.  Did they come from a search engine, pay per click landing page, word of mouth, link from Twitter or Facebook, affiliate sales?  The source of a link tells you a story.  This is why your Google Analytics inbound traffic sources are a great place to learn about your visitors.  Take advantage of tracking codes.  Your traffic story will tell you the good news and point to the bad news, like lost pages, bounce rates, short time on pages and more.
What analytics won't tell you is who came to your website with their hands shaking, tears running down their cheeks, while looking for research on a bad health diagnosis.  You likely will never know how many color blind men came and never saw your red headings and red text links.  Chances are you never hear all the swear words being thrown at your site whenever a page loads slowly, font sizes are too tiny to read, gray text is impossible to see, sliders are moving too fast, links go to pages that no longer exist, site search engines don't function properly, navigation is a maze and not a single price is shown.  This is the stuff that REALLY ticks off your site visitors.
Did you design for the customer journey?  For a site with a giant inventory, it is easy to get lost trying to find an item, especially if it located in a category your guest is not used to searching in.  For these situations, your plan must include keyword research to aid findability.  You also must research how women shop and make choices, for example, vs how purchase agents shop for parts needed for manufacturing companies and assembly work.  Add to this knowledge about where social networking fits or does not fit.  For example, a purchase agent ordering a box of bolts is not likely going to be looking in Pinterest for recommendations. In fact, it is interesting to note how many industrial sites have a Facebook page, Twitter and Google Plus pages to "follow".  Is this an accurate fit?
---
Provide Choices
You may hear how often user behavior is studied and read about the results.  Use caution when applying somebody else's testing results to your site, since every website targets different people with various habits.  Common features on sites are things like featured products, popular items, and related items.  These are perfect for upselling and cross selling.
I used to work in an upscale clothing store.  We were taught how to create entire ensembles for customers so that a shirt was suggested to go with a specific type of skirt for example.  Belts, scarves, the latest in sandals….our job was to know how to put together outfits so we were ready to compile them together for customers who tried, (poor them), to leave with only purchasing one item.
If you don't run an ecommerce site, take note how blogs allow you to insert tags and let you choose categories for your posts.  This lets your visitors sort their way, and of course, the more you understand what that is, the better you can add the Meta data to assist.
Always, always, always provide reasons why.  This is one of the most under developed areas in websites.  Every claim must be backed up.  Prove how unique your site is.  You must show off on the Internet to stand out.  What interests your readers the most?  What small change makes a huge difference in sales? The answers are found in all the ways you make someone feel good about their choices.
This is where customer ratings and feedback help.  Discounts for Facebook fans, free shipping for items that total over $50, partner and reseller discounts that increase based on sales, prizes, gifts, and much more are incentives to not only stay on your site, but also to refer it to others.  Remember, that giving has its rewards.
Website usability is mostly logic. Invest in understanding who your site is for and build it for them.