Say what you will about Google taking over the world's information, but I have yet to see it know what I want, even when I give it so many clues.
If you know me, you know I'm a fringe fanatic. My worst daily agony is figuring out which fringe boots to wear. Or worse, pack for a conference. I packed five pair of fringe boots for Pubcon Las Vegas, but after I parked my car at the airport, a moment of sanity struck and I left 3 pairs in the car and grabbed my sneakers.
Fringe coats, 70's style, are another weakness. Fortunately, I only brought one fringe jacket on that trip. I didn't need it. Las Vegas was warm.
The point is when I need a new fringe fix, I fire up Google to see what's new. I expect to find new styles, new images, new sales, new stores or at the very least, one image with a chorus of angels singing "Buy us Kim" in the background and a coupon code shining brightly in a heavenly glow nearby.
Sadly, this does not happen. I get this result whenever I type in "womens fringe boots".
---
Repetition by the same shops and brand.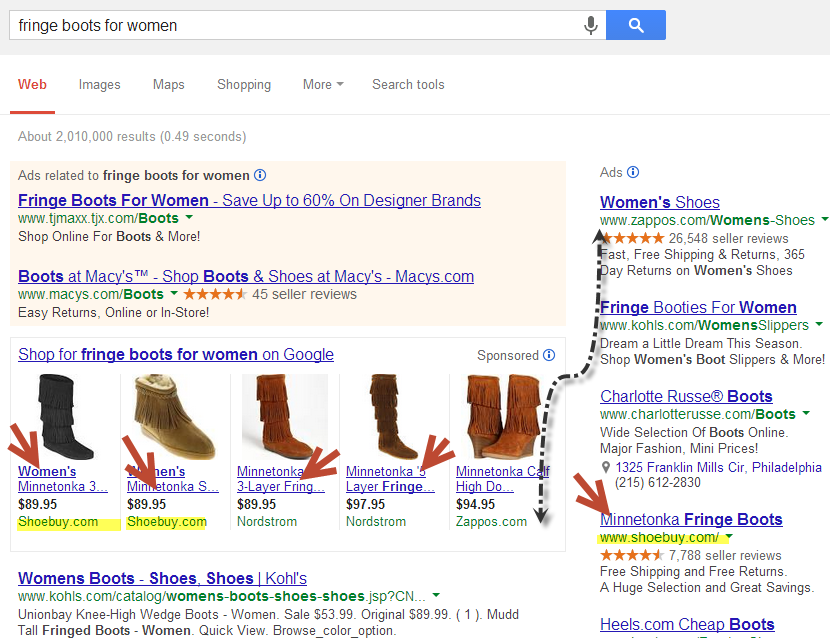 I know from experience that Zappos is just going to show more Minnetonka brand boots. The search results page continues with the same results focused on that brand that advertisers seem to be determined to relentlessly push.
The second set of images are not captioned but I already know they are Minnetonka fringe boots. Are these the only fringe boots on the planet?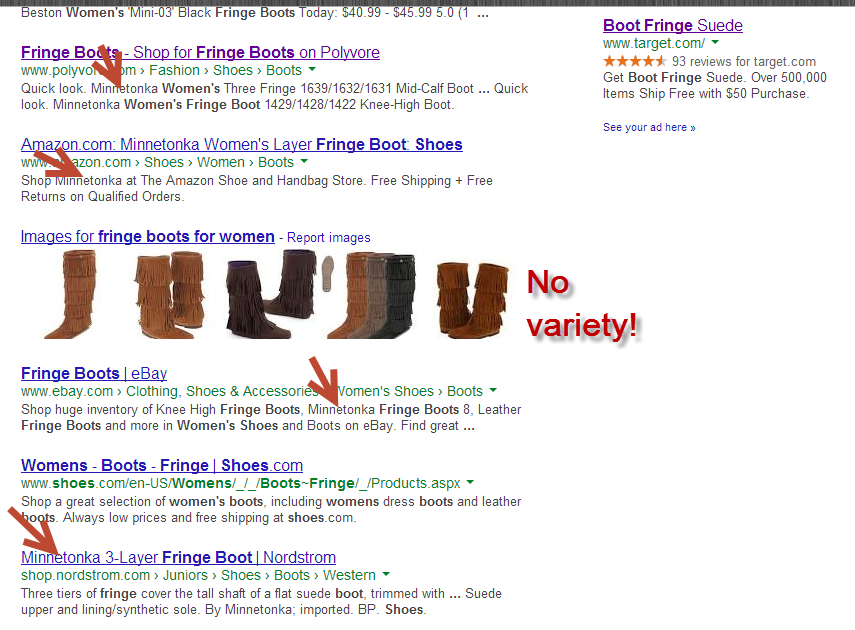 ---
Misleading ads that do not meet user expectations.
The user expectation is to see fringe boots. To be fair, I scrolled down a bit and found this cute little number, and pinned it because they are different.
---
I love different.
Macy's took me on a voyage to nowhere. Think rain. Snow. Punk.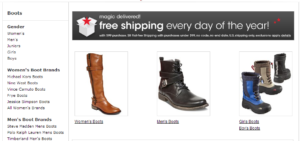 The Zappos ad took me to a page on sandals. The Kohl's ad has a nice display of slippers. The Kohl's organic search result underneath the images is a page of boots. Only one had fringe and it was a Minnetonka look-alike.
---
Training Google to Know Us
There is a concern about how Google is planning on being the one stop place for all information and there will no longer be any need to click into pages or images that appear in their search results.
There are barriers to those clicks because the ads are misleading and the organic results are a confusing mess. Google is happy to take advertisers' money and as long as the ads send visitors to Mars or someone's basement, who cares?
Your job, as SEO's and web designers, is to know exactly what your site visitors want and help them find it.
It begins by understanding them as a customer, searcher and researcher. Develop user personas and searcher personas. Know your products. It's your responsibilty to know what new customers are looking for as well as people who are familiar with your products and want to see something new.
Most of the fringe boots promoted now are exactly the same styles as the past few years. To help me locate products and persuade me to order, an expert SEO interested in user experience and marketing will optimize for:
"new fringe boot styles"
"unique fringe boots"
"western look fringe boots"
"low heeled leather and fringe boots"
Even better is to research what it is about certain products you sell that make them a hit. Using the fringe boots example, I like thin fringe rather than wide cut. I like long fringe. Low heels. Sales! Over time I learned how to find what I want by being more specific with my search terms. The word "unique" helped me find these.
A search for "western fringe boots for women" brings me practically to tears of joy because there is a true variety in the images and sites to check out.
Labeling myself also works very well, as in "hippie fringe boots for women". This is how I'm on my second pair of these (because my dogs ate the first pair.)
Even better is "bohemian fringe boots for women", which is usually a gold mine and a search phrase exclusively used when I have "mad money" to spend because the selection is crazy fun.
I'm also a customer who is willing to explore a catchy title site name, title tag or meta description. That's how I found these adorable fringe babes during my Bohemian search.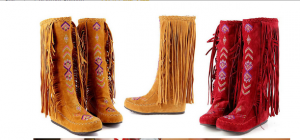 ---
SEO is not dead. SEO and Usability Are Best Buds
Google has no idea who we are as individuals. They know us as data and groupings. Throw out your "not provided" willies and ask your site visitors what they want you to provide them . Wrestle your ad spend to target strategies that focus on their leads. Wishing for traffic and conversions is not going to pay the bills.
The user experience has to be explored to get the conversions you want.
Understanding what your site visitors want was, is and always will be the basis for your online success.