For nearly two decades a disconnect between search engine marketing and user friendly web design created a wedge between two industries that have similar goals.
They both want people to come to the websites they work on.
Understandably, for the search engine optimization camp, it was enough to keep up with the roller coaster search engine ride to get pages indexed, ranked high, drawing in traffic and be out there pounding the pavement seeking links.
The usability industry sat back on their ergonomic chairs staring into their megaton computer monitors attacking missed brackets in source code, fiddling with various layouts that meet stakeholder requirements and testing their designs with people. It has not been their job to market the sites they were worked on.
Today with Google swearing, with their fingers crossed behind its back, that rank is all about quality websites, the whole party moved to the people-pleasing side of design and marketing. This is all well and good but despite all the nurturing being done by search engines to get the web pages they want to be productive members of the search engine server community, I see a lot of room for improvement.
Online marketers can duke it out all they wish to find new ways to produce the kind of web pages that will please search engines. I know they will miss the things I see. And this is because what I see is partly due to my training, but mostly because I'm human with feelings, opinions, and attitude. I also have no time to deal with annoying page designs, like endlessly scrolling pages, sliders, text I can't see or read, figuring out mystery links and tackling confusing navigation.  All the usability studies indicate you and I agree.  Or, just stare at your bounce rate in Google Analytics and bribe the data fairies.
---
Purposeful Design is People on Purpose Design
This means respecting the people who are intended to use your website. Purposeful design means communicating trust. Typically trust and authority are easy to show off when you have expertise, a skilled staff, are easy to contact and have worked on creating a reputable brand. However, you can lose someone in the blink of an eye if your web design allows a change that ticks off your customers.
For example:
Forever 21 is a clothing store my daughter and I both enjoy because we like the clothes and their prices. She's had "stuff from Forever 21" on her Christmas and birthday lists for years. She's now 23 years old.  When I visited their website recently I found something strange.




The categories are either a mystery, such as "21st St" and "Love 21", but they really offended me when I saw their categories for "men" and "girls". In my world, a girl is quite young and by the time she reaches 16 to 18 years old, she's a young woman. Beyond that, she's a full-fledged woman, able to bear children, vote, support a family, have a job and figure out how to pay for her "woman" clothes.
Curious, I decided to see how the site is optimized and what the search results show. Sure enough, they market to women.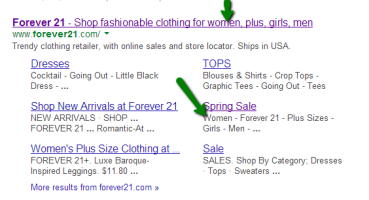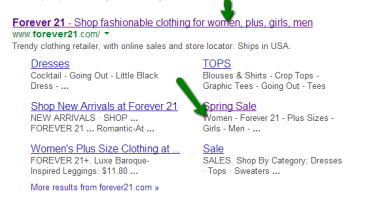 The Healthcare.gov website is far too badly bungled to go into here. It does not function. This we know. Every news station has had a field day with the case of the poorly built site that cost taxpayers millions to build and doesn't work.
Unless you work in website development, software QA testing, or project management, you can't know what really happens. Websites are pushed when they are not tested and ready because the persons given the power to decide have no idea whatsoever what they are doing.
In other words, had it been me at the wheel, the Healthcare.gov would never have seen the light of day until it was actually built and tested out completely. The homepage would not pass my usability audit. Remember respect for the people? The Healthcare.gov site has to sell health insurance to an American public who resist change. It has to:
Establish trust
Establish authority
Explain the site's purpose
Provide specific tasks for different user types
Answer the most popular questions right away or at last point to the answers
It has to do all of those things in a few seconds and above the page fold. Below are some of my quick grabs from the homepage.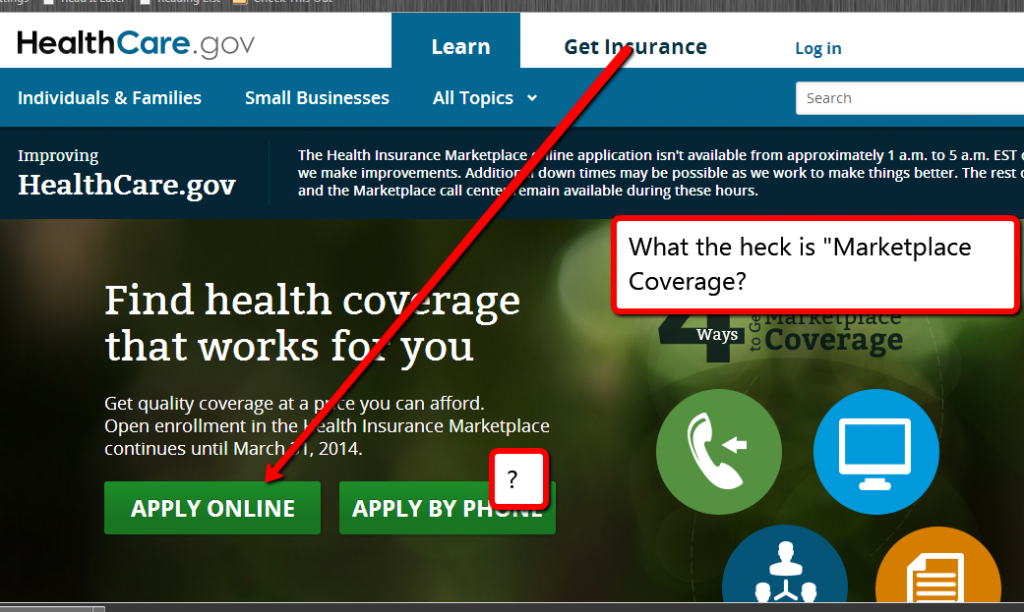 Who is the "log in" for? Patients, healthcare companies, medical professionals?
Which call to action prompt is the correct to choose? "Get insurance" or "Apply Online"?
Why would you click a button to make a phone call? (An unusual task, so user instructions would help to understand what will happen.)
What are we applying for? What is the "Marketplace"? Where is the information we need to understand what the site is for and if we need it? Why are good questions found in "All Topics" rather than key questions being addressed on the homepage?
What's happened is the site offers no guidance with the design. In fact, if you click on the "Apply Now", it takes a few more clicks of the same call to action button before you get to a form to fill out. A more intuitive design would start the selection and decision making process immediately.
I had many questions for the site that I did not find answers for. I needed to return several times and still hit dead ends. This is due to not having done user persona research before designing the site. They needed to understand our needs, fears, time constraints and most vital concerns. They needed to persuade us to trust them. They should have watched all kinds of people use the web site to see where it would fail.
Remember the divide between website design and marketing?
If there was ever a time to accept that SEO and Usability skill sets work together in today's Internet world, it is now.