In part one of this series, I mentioned how often web site homepages don't mention their company name anywhere in their content.  They seem to believe we all know who they are. The next disappearing act on homepages is where the company is located.  There are special instances where this information is best hidden, but for most of you, where your business is means something to both search engines and your web site guests.
The "secret" to what I'm showing you in the next weeks is nothing more than answering questions in your content that both search engines and humans can see.  Today's search queries are advanced enough so that a search engine not only understands a question you ask of it, but will take you to the page that contains the question with the answer that is most favored.  Your goal is to be that highly ranked page with the answers.
---
Why Does Where Matter To Conversions?
Sadly, where you claim to be located does hold weight for some people in certain industries.  Take medical advice for example.  Along with "black hat" SEO techniques used for pharmaceutical and various medical and health related sites, there is the tiny detail of where such a site indicates they are located.  To be considered a reputable web site for online Western medical advice or doctor recommendations, searchers are more likely to trust a USA based web site.  The closer the company is to the type of product or service they claim to be an expert of, the more credible they are conceived to be.  Knowing this, sometimes an address is faked and the business is nowhere near where they say they are.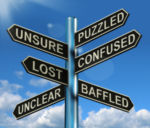 The "Where" question is applied to anything related to direction, location, sense of place in navigation and where to take action or complete a task.   If you own a business that you wish to promote locally,then place your business address, along with your zip or postal code, into your footer in text format.  If you have a map or directions to your business or store, create a link inside introductory content, footer or anywhere where this would be a natural fit that says "Get directions" or "View our map and find directions".  (There is no need to add the word "here".)  To optimize even more, add your business name or specific services and products, such as "Get directions on how to assemble the [keyword]" and "View [company name] map and get directions."
Identifying where something is goes a long way towards increasing conversions in ways you likely have not thought of.  It's closely tied to trust, credibility, authenticity, understandability and momentum.  The following suggestions can be applied to any type of web site, with some of them more valuable to ecommerce than others.
---
Where to Add the Where
Using the bullet list in Part I on the various places in your content that can be optimized for conversions, here are ideas to try:
State in your header, near the logo or upper right area for login and customer support links, where you do business.  Do you ship globally?  Do you sell nationally? Does your company focus on local community needs only?
Where are your sales, hot items, clearance, promo codes, coupons, special deals, etc.?  In addition to making these links stand out in global navigation, if the topic comes up inside content, link to where your customer may need to go next in the sales funnel.  Example, "Find more sale items in "Holiday Clearance", and take them there.  You've just identified the benefit (sales items), what sets it apart from other sales (seasonal) and where to go to see them. Bonus: Add the word "your", never "our", to these statements.  Example, "Santa's Elves placed your favorite stocking stuffers in Holiday Clearance", or "Log into your account to get your weekly coupon."  These calls to action are persuasive, offer a value, recognize your site guests and offer directions.
Where can visitors contact you? It helps to spell this out, since not all Contact pages invite contact or user feedback.  Since user generated content, ratings and testimonials are conversion injection devices, try reaching out directly with calls to action and take them to the place that completes the task.  Some examples:

Somewhere in the product page, about page, services descriptions, and even blog posts, add a sentence or sub-heading in a header tag (like H2 or H3) such as, "Where is your [keyword brand] store located?" and answer the question on the page and/or start the answer and then link to a page where searches are performed.
In an image caption (humor, smiling person), add an invitation and link to a feedback form.  This can be used for testimonials or any type of user feedback.  In the invitational text, put the page title in the link, such as "contact", "feedback form", etc.

Where do you stand in relation to your competitors?  More often this information will be part of the "Why" content, but you can be creative here too.  Does your car dealership outperform the one up the road from you? Are you the only hand crafted fringed leather boot maker who ships free to Alaska?
Where are your products, information and services the most desired?  Not only do you want to target these people and areas, but you want to specifically identify them in your content.  Example, "College students in the Mid-west voted [keyword] the best of 2012."  Conversions increase when you fulfill desire.  Have fun with this one!  Research your target customers and show them where they rock, or are the same as, or are better at, or where they compare to others.
"Sense of place" is another gigantic area of optimization possibilities because you have navigation labels, breadcrumb link labels, embedded text link labels, video transcripts, image captions, footer links, blog sidebars and ways to enhance text with CSS to attract attention.  Since both search engines and human visitors can all read the text in these areas, you have a bonanza of options to play with "where".  The key is to be very descriptive, which may mean going beyond one word labels like "About", "Contact", "Services" etc.Each web site has different needs and are different sizes.  It's entirely possible that a Contact hub is needed for big name brands that have stores and headquarters around the world.  So the top link in this hub would be "Contact" or "Contact Brand name", with sub-pages to a contact page for each store location, that includes their name, country, address, contact, and even a bit of something interesting about them.
User funnels are another "Where" optimization opportunity.  Where should your affiliates sign up or log in? Where is the section for members only?  If the retailers start here, where do the wholesalers start on your site?   Where would grandparents like to find gifts instead of first time parents on your children's clothing site?  Where are the free cards for each season?  Everyone who lands on your web site wants to be identified quickly and shown where you made the section for them to go.  Often the most popular section is a Customer Service page that holds all their answers.  Be sure you make it clear where you put this and call it out in text such as "We want your experience with us to be rewarding.  Please visit [brand name] Customer Service with any concerns."
When working on naturally optimizing your web pages, and especially your homepage or top landing pages, remember "Location, location, location!"   Write your text in ways that your answers will help searchers looking for specific information on or about your web site.  Even if cases where you may be a start-up or new information site, when you meet an exact need, goal or desire and this information comes up in search engines, you may find better matched traffic and the reward of happy referrals.