Yesterday I purchased new office furniture from Leroy the long haired, caffeinated sales guy who reminded me of the value of excellent customer service.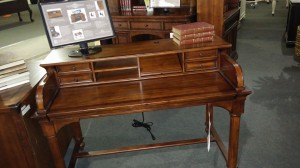 The furniture store was gigantic and a bit unorganized, so that if you stood at the entrance long enough you could piece together in your mind where the kitchen tables end and office furniture begins.  An advertisement for a huge 80% off sale over the weekend drew in a crowd, but the building is so large there was room to spare.
I was not sure about Leroy at first.  While my husband and I browsed the desks, hutches, bookcases, and credenzas, I could see various salesmen answering customer questions or strolling around looking for a confused customer.  There was nothing to help distinguish salesmen from customers other than a clipboard and pen.  Tall, lanky Leroy looked like he had just unloaded an 18 wheeler, had not combed his hair in a week, and his lined face had seen its share of living.
The closer I became to making a decision, the more often I looked up a few times to see if a salesman was nearby.  Leroy was scurrying around helping someone else.  Finally, my husband went in search of someone.  I saw Leroy whiz by out of the corner of an eye.  I made a turn, circling the desk I chose, and one blink later Leroy was standing in front of me, offering to help.
I asked him if they had the desk in stock.  He immediately knew the answer, which was yes.
I asked him if I could order now but have it delivered in about 6 weeks when my new office can be moved into.  He said yes, this wasn't a problem.
He then returned to his other customer.  My husband came back alone, but I told him I had found someone.  We looked some more, made decisions and as if reading my mind, Leroy leapt to my side again, ready to check to see if I had made a decision.  I had.
---
Leroy Lessons
I was fascinated by Leroy the sales guy who looked like a truck driver.
So often I explain to clients that their websites must be attractive to make a good impression and they must have an intimate understanding of their target customers so they can create the perfect conversion paths and sales funnels.  Here I was standing in a mammoth store, on a cement floor, surrounded by furniture arranged in rows, with a sales guy who was likely wishing he had Sunday off and looked like he needed a good meal and haircut.  Appearance and layout, I was reminded, may just be secondary to excellent customer service and even more, a pleasant user experience.
Leroy and I did the customer-who-changes-her-mind and salesman-keeps-up dance for about 10 minutes.  He was jolly, no pressure and Zen-like with his uncanny attentiveness.
"You want one of those, two of the black one, this one and one of this?" he'd call out to me in a loud voice.
I'd change the pieces and amounts.  He could tell me, from memory, how many were in stock. He never pushed or tried to lead me to a higher priced alternative.
"Tell me again, this one, this one, two of that one?" he'd ask as he pounced from piece, to tickets with the numbers he needed, to the cash register, clipboard, and back to me again.  Never once did he rush me.  "Take your time!" he'd call out, and he'd help someone else and then zip back to me again.  If I had a question, I could simply call over to him as he was always close by and he'd answer right away.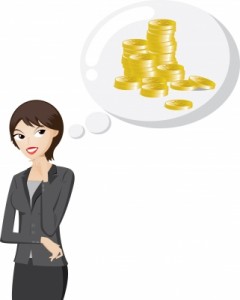 When I finally chose my office set and a sweet writing desk for another room, Leroy started the process of entering my information.
"How do you spell that?"  "What's the zip code?"  "Have you been here before?"  Whenever there was a reason to not know the answer right away, he'd say, "That's okay, we can always go back and fix it later."
He was clearly a pro at this.  I watched him enter my information into the computer, check it and double check it, and remind us several times that if anything changed, we had time still to update the information and even add more furniture before the delivery date.  To me, as a usability analyst who tests websites and shopping carts, this reminded me of all the times I find missing user instructions.  When can we make changes during the shopping cart process?  Can we review before printing?
Leroy also knew if an item was in stock or not.  This is something many of us have experienced during online shopping, especially with sale items.  We follow the promotion, get to the page, start to place our order and then learn it is no longer in stock.  Leroy saved me time simply because he just knew.
He reviewed every item by walking over to it with me, to be sure he had the correct numbers entered. I took pictures of the items on my cell phone, sat on the chairs, opened and closed drawers, and played with the pull out writing table.  Whenever Leroy ran to help someone, I had a few moments to simply dream about working in my office.
In other words, I had time to experience the products.  Web design hasn't fully grasped how to emulate this human need to include emotion, dreams, contemplation and just quiet thinking about the products we see in online stores.  For our customer experience online, we are lucky to see an image that may expand in size, show various angles and views and allow close-ups.  The same writing desk I chose in the store would need a video on a website to display the nooks and crannies, hidden holes for wires, the table that pulls out to be larger for more writing room,  the various drawers with different openings and to communicate the look and feel of the desk experience. Leroy never hovered about.  Rather, he let me take my time so I could experience the products, while always being close by to answer any questions.
So much advice, from me and others, focuses on calls to action, layout, where to place content, appearance and more in an effort to create a good user experience that will translate into a productive, memorable customer experience. All of us are bombarded with advertisements and requests for our personal information before gaining entrance to some websites.
I would gladly trade all the website nonsense for a shopping experience with a sales guy like Leroy, who may not have looked all cleaned up and business-like, but he sold me $2000 worth of furniture and made the entire experience fast, painless, relaxing, smooth, and fun.
How many websites can claim this about their user experience?