Small businesses that want a website are at a severe disadvantage when seeking a credible company capable of designing an optimized, persuasive online presence.

As a strong supporter of buying from local businesses, I'm well aware there is a lack of skilled local web service providers.  This frustrates small business owners who want a website and wish to hire a local company to do the work.   A small business wanting a website may be an book author who blogs for many well-known online publishers, a small restaurant catering to the local area, churches, towns and municipalities, school districts, lawyers, health and wellness centers, hair salons, artists, home improvement contractors, real estate offices, small town shops, and horseback riding stables.  These are places of business or individuals who are not backed by corporations.  Many of them have strained budgets, are non-profit, or startup ventures.
In other words, they are easily taken advantage of.  If you own a small business and are unhappy with your present web site services, or are new and considering having a website built, let's arm you with knowledge, requirements and a plan.
---
Why Am I Paying So Much?
I'm asked the following statements from local business owners who have already hired a company to build their website and promote it search engines.
I'm paying too much money.
I don't understand what I'm paying for.
I'm paying XXX and not seeing results.
The most commonly outrageous stories I'm told come from the search engine optimization realm of services.  Small businesses unwittingly are coerced into paying enormous sums of money for services they do not understand.  They are not informed of the risks, nor are they aware that certain methods can lead to penalties in search engines.  I have seen brief Word documents with a history of the months bounce rates and popular pages delivered for several thousand dollars per month.
A home business opportunity with a well-known corporate presence provides its franchise members an offer to "submit" their sites to Alta Vista and other search engines for a monthly fee.  We all receive unsolicited email offers for SEO services by companies that are clueless and reckless with their online marketing practices.  They prey on small businesses.
You are paying too much because you being taken advantage of by people and companies using out of date practices who know you don't know what the current, proper search engine marketing practices are.
You are paying for methods that are more likely to get your web site penalized in search engines.  You are paying for services that are not being performed.  You are paying for out of date practices performed by unskilled people.  You are paying for analytics and data you can get yourself for free.
You are not seeing results because there is no plan.  Your service provider may not have asked you for Key Performance Indicators (KPI), your competitors, your quarterly goals and your top business requirements for your web site.  You are paying for keyword data from Google that is no longer provided, but they are not going to tell you that.
---
My Website Is Not Working the Way I Hoped
The most common reaction to a poor rank, low conversions, high bounce rates and skimpy traffic is to throw more money towards search engine marketing rather than evaluating the site's usability.  Small businesses may accept whatever web design they get, especially if it looks attractive.  Their monthly budget is more likely tied to marketing rather than design maintenance, content updates and split testing.
Small businesses are not guided to test their sites because the company they hired to build it has no idea how to perform usability audits or split testing.  Even web design companies who are stronger on the design side and weaker on SEO do not know how to build persuasive websites.  They may not have the skills for meeting accessibility standards, which is a specialized skill and yet extremely valuable to conversions.  It's far too easy to put up a WordPress, Joomla or Drupal based website with a Responsive design for mobile devices and call it a day.
To illustrate to a friend why their website was performing badly in search engines and with their intended site visitors, I did what I always do first when I look at a web site.  I removed the images.
Homepage – Top
This is what the top of the homepage looks like.  There is no optimized text for search engines to work with.  There is no navigation for screen readers or anyone not loading images.  The image-based design tells its story for human eyes.  Calls to action are called "click here" and "learn more".
Homepage – Bottom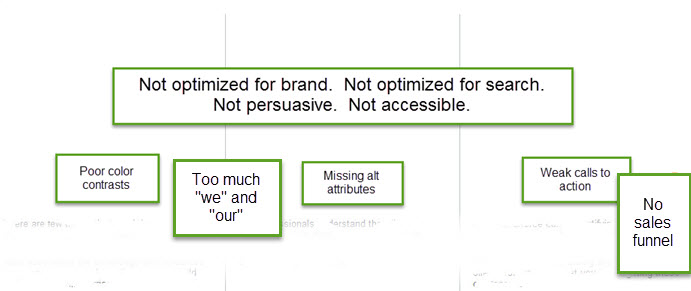 There is not a single instance on their homepage where their company name is provided in text format.  The content is written from the perspective of them, rather than what they provide their clients.  There are no alt attributes behind the images, no conversions funnels and there is no organic SEO work performed (although they are charged for it.)
Even with the images displayed, I could tell there was no plan for this website.  Sadly, it was a redesign and no better than the original.  The company that built it does not have designers trained in usability, user experience, accessibility, information architecture and conversions design.  They do claim to be SEO's.
At Internet Marketing Ninjas, we strongly encourage every client to let us perform a website usability and persuasive design site audit, even when they appear to be only interested in the variety of expert Internet marketing services we provide.  There has never been a website audited that has not needed improvements to their design to increase conversions, user experience and accessibility standards.  If this is the case for our corporate clients, you might well imagine the situation for small businesses and individuals who simply want a website that ranks well and is user friendly.
In the following weeks I'm going to arm you with information.  You will know what you need, what to request, and how to plan for your website's future.
You should never be charged for poor quality work simply because you don't know what to look for.  When you hire a company to build, maintain and market your website, you expect that for the fees you are charged, the appropriate work is performed.  Whether you are a sole proprietor or business with a small staff, you deserve the same opportunities for success as your larger counterparts who may have more money and resources.
They don't always have a plan either.
Let's show them how it is done, shall we?