Have you ever had an interaction with a brand's social media that was so bad it made you think "How does anyone trust this brand? How can I trust this brand?" I recently found myself on the customer end of such a situation. However, the offending brand didn't represent a product, it represented a music festival.
When it comes to effective social media engagement, few brands revel in it more than music festivals. Using their accounts effectively, festival community managers can respond actively to complaints, help those in need, keep their patrons informed of emergency services, announce secret additional sets by bands, and so much more. A well run set of festival social media accounts can truly inspire trust in the attendees of its event. It seems that some community managers still do not understand that poor social media management can't simply hurt brands, it can inspire distrust in them. When the brand in question is an event, the customer is being inspired to distrust the most valuable product of all, an experience.
---
The Offending Brand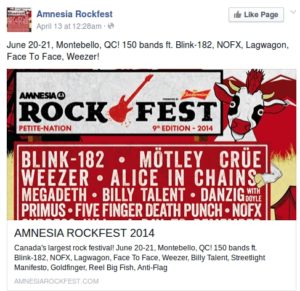 After seeing "Amnesia RockFest" pop up on my Facebook feed as a Suggested Post, I was intrigued and decided to research the event. After all, if the overly complicated and ever-changing FB algorithm has taught me anything, it's that this type of post might actually be geared towards my interests. Perhaps this was an awesome festival I should check out? There was only one way to be sure.
I Bing'd the title of the festival, with "2013" on the end, and scrolled down through the 8 pack on the first page of the SERP, I immediately found this article "Amnesia Rockfest 2013: Or My Weekend In Hell". As it turns out, the 2013 event was one of the worst and most terribly managed music festivals in history. Not only that, but according to the article "The only activity from anybody from Rockfest as of Monday morning was somebody instantly removing the wave of negative comments from their official Facebook page." As anyone who manages brand social media knows, deleting negative comments from your Facebook page will not help your reputation issues, it often makes them worse.
After reading the aforementioned article, and several more, I was left with a very bad impression of the brand. Knowing that my Facebook friends might not necessarily know what they were getting into if they attended the 2014 event, I added the following comment to Amnesia RockFest's post.

Within a day, their social media management proved to me that the organizers have no intention of veering away from their shady ways. They deleted my comment and responded by tagging my name in the following comment of their own.
When I clicked on the link, it went nowhere and I was left with the ball they had dropped. I sat there thinking "Are they trying to dupe people into attending their event?" Even almost a year later, the brand seemed more than willing to ignore their 2013 shortcomings and continue their absence of social media transparency. All of which seemed as shady as can be.
I decided to dig a bit more into RockFest's social media accounts. What I found was some of the worst social media management I have ever seen. Their social numbers across all major networks are extremely low. On the surface, their Facebook engagement seems to be very thorough. However, we already know this is not the case because they delete all their negative comments. So, while it looks like they are positively engaging with every fan, that's just what we are allowed to see. Their twitter account, which features a very small amount of followers compared to other festivals their size, has only one follower engagement in the last year and blatantly ignores any sort of 80/20 rule. Adding to that, their Google+ presence is practically non existent. All of this leads me to ask the following question.
---
If bad social media is indicative of a bad music festival, then is good social media indicative of a good music festival?
From what I have found, the answer is a resounding yes. When we look at the social media numbers of other popular North American music festivals, there is a glaring contrast.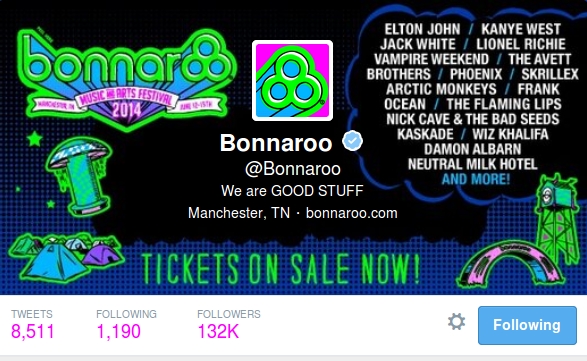 Music festival giant Bonnaroo, held every year in Tenessee, has incredible social media presence. Comparatively, their event is very well run. Even searching their previous year's events leads to multiple positive stories and coverage of those events.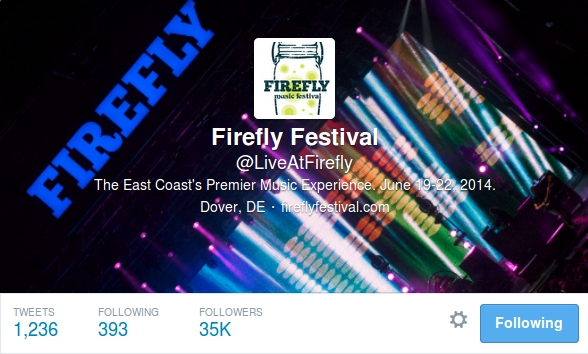 You might think that how long a festival has existed is a social media popularity factor as well, but the Firefly music festival is only a couple years old and it has some phenomenal social media numbers and a great online reputation.
Even festivals on a smaller scale, such as The Fest in Gainesville, FL, rule the world of event social media by putting their fans in a position where they can rely on the brand's accounts for important information and assistance. A prime example of The Fest's remarkable interaction with their patrons can be seen on the day tickets for their event went on sale.
As thousands of people logged into their website from all over the world, the brand was present and active to answer any questions. This type of social media engagement inspires perhaps the greatest trust of all.
---
The Takeaways.
Great event social media management and engagement is indicative of a great event. This can also be said for all brands, but in cases where the product is an experience, the engagement becomes much more crucial to inspiring trust in the audience.
For those doing social media management for an event of any size, I offer this advice based on my findings. Staying present, positive, and engaging with your audience on a constant basis will continuously inspire trust in your event. The resulting audience trust generated can increase your positive brand recognition exponentially for years to come.