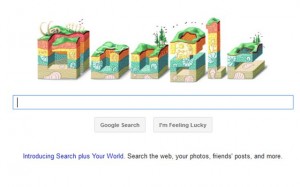 It's no secret that Social Media influences your search rankings, but where people seem to get lost is in HOW Social Media impacts SERPS (Search Engine Results Page).  So, let's break it down into English or at least as far from geek-speak as I can manage. (If  you hear the Waa Waa Waa of Charlie Brown's teacher stop for  a 10 second brain break.).
Search Engines work on relevance, meaning it's a search engine's job is to bring results back that are the most relevant to what the user was searching for. Over the last year or so, search engines have been trying to personalize the information on SERPs. For example:  If you are logged into Google when you search, the results will be different than if you aren't. If you are logged into Facebook, then pages that your friends have liked will show up in your search results.  All of this happens to help you, the searcher, get the most relevant information.
Simon Heseltine has a great article on Search Engine Watch that shows some examples of personalization.
Secondly, search engines, particularly Google, like displaying results that have been +1 in Google and "Liked" in Facebook.  The theory is, if it's worth "liking" it's got something good to say and is therefore more relevant.
The trick comes in with effectively leveraging that theory by participating in the social networks.
From a business owner's perspective, incorporating Social Media in your Internet Marketing plan will get you noticed more, help you show up organically in the SERPs more and  increase the traffic to your website. From there, the goal is to convert that traffic into new business. By actively participating in the social networks, you increase your relevance and the relevance of your brand.
How to participate:
Create profiles on the social networks.  Facebook, Twitter, LinkedIn, Google+ all come to mind.  Plus some of the smaller industry specific sites.
Create a separate Facebook business page for your web site and each relevant product / service.
Own the space – Simply creating the profiles and leaving them dormant does not work.  Talk about what you do, what you like, what you know.  This positions you as an expert in your field, creates interest and most importantly gets you likes / fans / followers.  If you write a blog – even more of a linkable bonus.
Add the +1 and like buttons to your web site and blog posts.  Throw in Twitter, Digg and other share buttons to give you more back-links.
This is all even MORE relevant in the light of Google's announcement of Search Plus Your World. This change means that connections, their posts, what they like, Tweet, bookmark and +1, will be showing up in the SERPS for the people they are connected to. For your business and your bottom line, your investment in Social Networks will be a key to ranking well. Targeting your audience, being relevant, timely and interesting are no longer options for effective internet marketing, but requirements.
Also take a peek at The No Follow Myth
How does it feel to know Google indexes your likes?