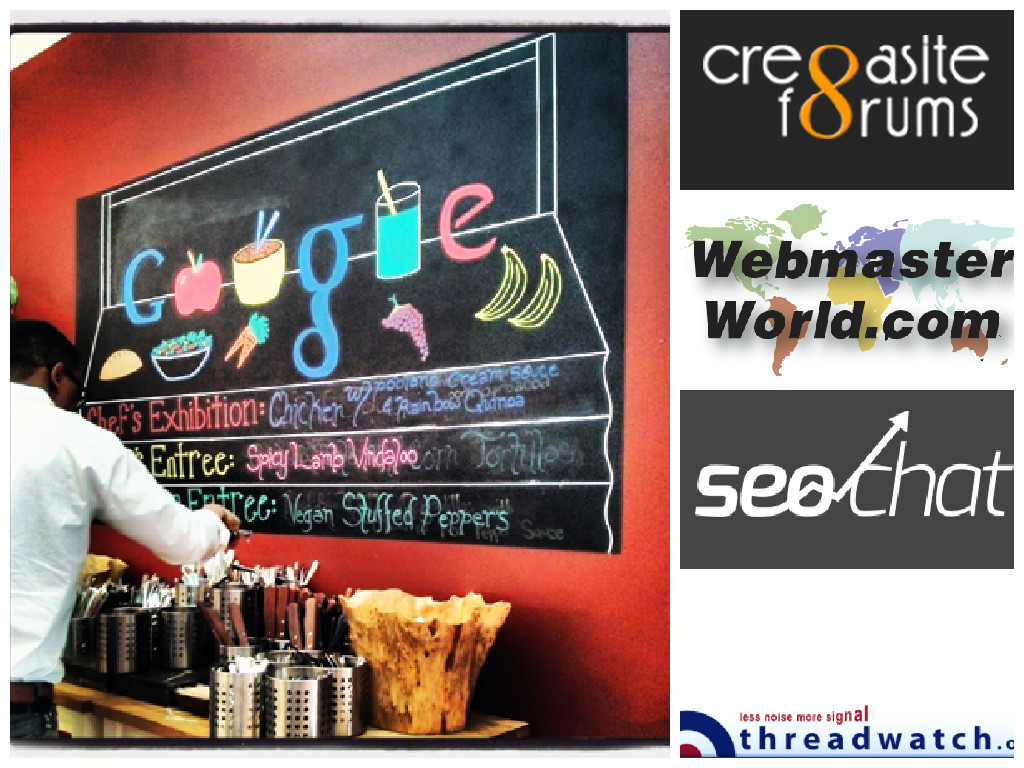 The knowledge graph was one thing, but did you know that you can actually order food through Google? It's true!
Even if Panda and Penguin require manual data updates, Chinese takeout is only ever a click away. What a world we live in! Here's what else is being discussed in our busy communities this week:
Panda and Penguin NOT In Real Time
This week it was revealed that the ranking updates and calculations made by Panda and Penguin only occur when the update process button has been pressed. In other words, it's a "real-time-manual" sort of update. Sites won't be hit as soon as they make changes, but when the update process is run (think of it like regular computer maintenance) Panda and Penguin will take effect.
"It is probably because it needs all data collected and re-calculated looking at the site as a whole," one user on WebmasterWorld speculates. "It's been known for some time," another writes, referring to the manual update process. "What is discouraging for many webmasters is when they make all the required changes they remain penalised for way longer than is necessary." What are your thoughts? Is this announcement a relief, or does it make you feel more hostage to Google's whims?
Google Adds Food Ordering Direct From Google Mobile SERPs
Searching for a restaurant on a mobile device will now reveal a "place your order" option next to each result that will take you right to the restaurant's relevant web page for you to complete your order. What new challenges will this introduce for webmasters looking to get noticed on mobile?
"I doubt this will make much of an impact," WebmasterWorld user goodroi writes. "It has few participating companies and its not very obvious." Another user speculates, "Sounds like a win for the delivery services…" but what will it mean for other restaurants? Can hotels or other businesses that have eatery components take advantage of this new feature? Join the discussion!
Google Page Speed Insights – is 56/100 a Fail?
In this thread, a user wonders whether a slower page speed on mobile devices, as compared to desktop, will effect mobile rankings. SEO Chat users are talking about ways to test theories and the nature of site performance vs site rankings in this thread – give it a read!
These two jargon terms get thrown around a lot, but what do they mean? And should you really be listening to anyone who claims to be an authority on them? "Don't just copy a definition. That is what someone else believes it is. What do you believe it is?" SEO Chat user Fathom writes. This thread is a great read for exploring the nature of the industry and how SEOs define terms and work between Google's vague guidelines.
Can Scraped Site Links Damage A Site Or Not?
"Write good content, sit back, and let it do the work for you," is a common attitude for natural link building. But what if sites that Google sees as spam start linking to your content? "I always thought Google said they would never punish a site for bad links," says a poster on Cre8asiteforums. But still, there's a whole industry and software being developed to combat bad backlinks. Should they be ignored, or is a disavow necessary? "The trick with this stuff," senior user Grumpus writes, "is that no matter what is true today, it may not be true tomorrow." The mystery only deepens, but there are some common practices that Cre8asiteforums' expert users are happy to share.
What About The Better Business Bureau?
Isn't that kind of like grandpa's link building? "If you want to pay a few hundred dollars to get a trust mark for your website, then BBB is one of many places to get it," writes EGOL on Cre8asiteforums. What's that trust worth though? Is the BBB only smoke and mirrors, or is it still a good way to build trust and authority? Two distinct viewpoints are presented in this point-counterpoint style thread.
What's the Impact on Your Business After Mobilegeddon?
From the cliffs of Moz to the sprawling plains of Search Engine Land, all across the SEO world many major sites are reporting "limited to no fallout from Google's mobile algorithm change." In the eerie silence, many have been left scratching their heads and wondering if the other shoe is only inches away from dropping. Share your experience on Threadwatch and help build a better picture of what's happening.
Despite Popular Belief, Google CAN Read JavaScript
Many SEOs have stressed the importance of plain text because they believe that it's easier for search engines to read. A couple of years ago they would have been right – but this is the year 2015, and Google is making strides left and right! Hop on over to Threadwatch and read an interesting study where Googlebot was found to be literate in JavaScript redirects, links, dynamic content, meta data and "nofollow." "Of course," Threadwatch correspondent Adam W writes, "Sometimes webmasters will use JavaScript to hide content and that is still highly discouraged."