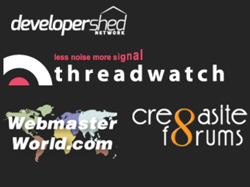 Once again it's time to share with you some of the liveliest discussions going on in our forums. You'll find everything from speculation about the future of search to practical things you can do right now to promote your business.
Over on Threadwatch.org, the changing face – and voice – of search came into sharp focus this week, as lots of our submissions and posts considered what's working, what isn't, and what's in store for the future.
---
Threadwatch
---
SEO Chat
Over on the SEO Chat forums, we got down to the nitty-gritty of numbers, talking about click-through rates and SERPs and good and bad links. We even made a special offer.
---
Cre8asite forums
At the Cre8asite forums, you'll find lots of brainstorming, creativity, and even the odd history lesson. Check it out!
---
Webmaster World
Finally, over on Webmaster World, lots of members put their fix-it caps on.
See you next week – until then, stay chatty!