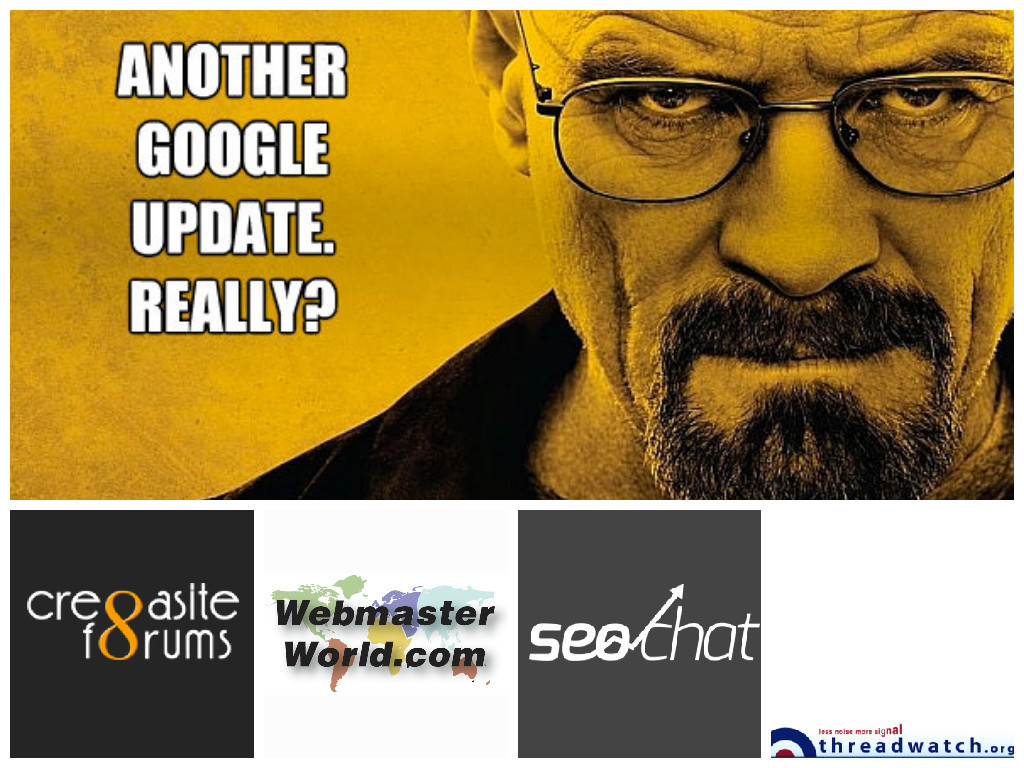 Curious about what's shaking and moving in the SEO world lately? Our communities are, as usual, up to date on the newest buzz! Facebook's news feed got an update late last week that the users of WebmasterWorld have been analyzing.
On Cre8asiteforums, meanwhile, users are talking about Google and quality…specifically how it feels like the two rarely align. We also learned that a Penguin refresh is only "months away" on Threadwatch, and we've got some expert advice from Jim Boykin to  help you prepare.
Google Wouldn't Know Quality if it Fell in it
This is my favorite title for a thread that I've seen all month! User iamlost on Cre8asiteforums always has insightful thoughts about quality and Google's search results, and this thread is no different.
"I've long said that Google can NOT and does NOT directly explicitly determine the quality of content. And that its indirect implicit input signals are eminently game-able," iamlost writes.
This thread has some great, real-life examples of times when Google's definition of "quality" seemed anything but. Hacked sites, misleading descriptions, and parlor tricks designed to fool Googlebot, galore! What examples have you seen in the past? And how do you feel about Google's definition of quality?
How do you feel about Google's definition of quality?
Click To Tweet
Search and Search Engines: It's All About the Money!
In many subtle ways, writes Cre8asiteforums veteran earlpearl, search and Google are all about money and advertising.
"Maybe local search is particularly ugly," he says. In this thread, the example is ReachLocal – a reseller of Google ads to small businesses and also a member of the Google Partners group. Despite winning numerous awards from Google, their reputation is pretty terrible among small businesses.
"But Google keeps promoting them. Google doesn't care. It loves the ad income. Big Goog doesn't have retail sales people on the street. It loves these resellers and damn the consequences," writes earlpearl.
Have an example or a personal experience to share? Join the users of Cre8asiteforums and vent – and help us all learn something about the influence of ad money in search!
Facebook Updates News Feed Control For More User Flexibility
Facebook Updates News Feed Control For More User Flexibility
Click To Tweet
It's not easy to run and promote a Facebook page. Exposure for pages has, for quite some time, been extremely hard to come by. But an update last week might open a new door for page owners.
Now users can choose what they want to see at the top of their news feeds. By using this new feature, they can give priority to certain friends and pages – meaning that updates from pages could become more visible if page owners are able to convince their followers to adjust their settings accordingly.
What do you think? Is this a new opportunity, or just a bit of false hope?
Big news from Mozilla – they're now blocking Flash by default on all Firefox browsers. If you've got any Flash videos or code on your site, it could be worth making some changes so that you don't inconvenience visitors using a Firefox browser.
Users on SEO Chat have seen this coming. Mod Test-ok comments,
"I've never liked flash, there seems to be too many issues with it." A linked article from the BBC says that Mozilla blocked Flash because it felt that bugs were being used by "cyber-thieves." Adobe claims that they plan to update Flash, at which point Mozilla might lift the block.
Join the users of Threadwatch in speculating about the upcoming Penguin refresh! Some people are really looking forward to it, with high hopes to escape penalty… but others are fearful for just the opposite reasons.
We've got two older great blog posts you can check out about Penguin too…
Great Links Won't Un-Trip Penguin Penalty, Fix or Abandon: In this blog post, Jim Boykin explores an example case with a content marketing client of IMN. The client hired the Ninjas to help with his traffic, which had taken a dive with the last Penguin update. "His solution, he felt, was to get trusted links to the site, thereby un-tripping the Penguin filter…I thought that might work once too," Jim writes. But it doesn't matter how many trusted links you get – once you're in a penalty situation, you're stuck there. Only once the penalty is lifted do you have a chance of seeing new results. A Penguin refresh is just on the horizon – what do you think will happen?
Google Penguin Penalty Removal Can be Guaranteed…But Recovery Can Not: You can guarantee a penalty removal if you get rid of all your backlinks, Jim writes in this post. But that also means that you'll have nadda, zip, zilch, zero for your rankings! So, where will your site be after a "recovery?" As Jim writes, "Any recovery in rankings is based on which of your backlinks had SEO value prior to the penalty compared to which backlinks you have left after a disavow document has been uploaded." With a Penguin refresh on the horizon, now may be the time to take stock of your backlinks and figure out – what did I get rid of while under penalty, and what will I have left when it's lifted?
Hash Tags in Blog Post Titles – Yay or Nay?
Back on Cre8asiteforums, Kim Krause Berg and the gang are talking about blogs and hash tags. A small business client fills their blog posts with hash tags, apparently under the advice "from a friend" that this is perfectly fine despite not being the way most humans query search engines.
This client's site is not doing well for a variety of reasons, and one wonders if this could be part of the #problem.
Cre8asiteforums member Grumpus writes, "I would say to avoid them in titles and if you really think the hash tag is important, then limit it to a single one. If you want to key in on that hash tag thing, use the tags system in WordPress." TheAlex writes, "Will it affect [CTR] is my first question. I can't see it harming indexation that much based on the title tag alone…"
What do you think?