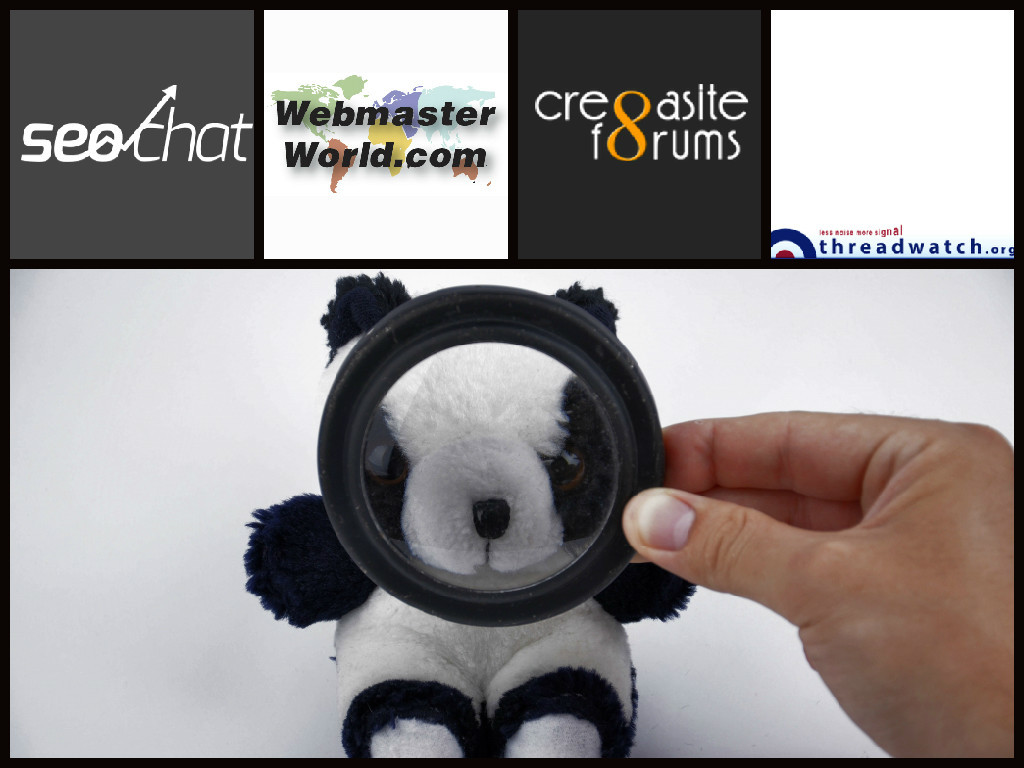 The biggest piece of news this week is probably that Panda 4.2 is rolling out, but there are plenty of other interesting discussions happening in our communities too!
We have coverage of the lead-up to Panda 4.2's announcement (take the survey to download a free copy of Ninjas' Panda Whitepaper), Google's treatment of gTLDs, and Twitter indexing on Threadwatch; on WebmasterWorld, we'll bring you two great discussions about getting back into SEO after a long absence and Google's new "Buy on Google" buttons; then take a trip to Cre8asiteforums to talk about Youtube and back to SEO Chat for some off-page SEO tips.
Take a look!
Let's begin with the biggest news, but take a fresh perspective. If you haven't heard, Panda 4.2 will begin taking effect at a gradual pace across the Internet. But in the days leading up to July 22, when an announcement was published on Search Engine Land, there was a lot of speculation and chatter about various "Phantom tremors," which were suspected to be a part of The Quality Update. Glenn Gabe, a trusted Panda expert, believes it has something to do with quality:
"I saw the latest Phantom tremor starting on 7/14/15. I've seen the impact with companies I am helping now, but I've also had new companies reach out to me explaining what they are seeing. And when tremors roll out, Phantom victims can see more impact (mostly negative based on my analysis, but there has been some positive movement)."
You can also check out some linked threads to WebmasterWorld and Search Engine Roundtable, where commenters speculated that the changes were "very minor," but could be Panda related. Were these signs the herald of what happened on the 22nd?
Google is Treating gTLDs No Differently Than a Dot Com
Generic TLDs were launched back in January of last year. If you remember, they involve domain extensions like .landscaping or .photography, and SEOs and brands kind of hated them. The feeling was that you'd need to buy both the .com, .org, .gov etc alongside the relevant gTLDs to secure your brand. Adam W on Threadwatch reports that
"John Mueller finally spoke on the matter, stating that gTLDs will be treated no differently than any other domain extension."
Curious what that means? Read the full discussion and join in on Threadwatch!
Google is Selective About Which Tweets it Indexes
A Stone Temple study found that Google "skews towards those with higher follower counts and 'authority' when indexing tweets," says a Threadwatch reporter. It's interesting to think that Google might be applying similar quality standards to how it indexes Tweets as to how it indexes websites.
Do you think the algorithms are similar? Furthermore, according to Stone Temple, Google's percentage of indexed Tweets remains low at under 4% but represents huge growth from when the Google-Twitter partnership began. Will every Tweet in the Twittersphere be indexed eventually, or only the best of the best?
Suggestions To Increase Google Rankings After Being Away From SEO
"We have been away from SEO the past year working on other projects but now we are getting back into it and we are trying to catch up on all the Google changes," writes WebmasterWorld user trinorthlightning.
Sound familiar? Running a business and a website requires SEO but there are a ton of moving parts. It's not uncommon for owners to neglect their SEO when everything seems to be working so that they can focus on other aspects of the business… but then when you get back into it, you might remember that the SEO world can be opaque and difficult to catch up with! Some of WebmasterWorld's senior members like netmeg, Johan007, martinibuster, and fathom have great advice in this thread!
Google Announces Test of Purchases, with "Buy on Google"
Another mobile overhaul is being tested by Google. This time, it involves "buy on Google" texts appearing in mobile SERPs. WebmasterWorld admin engine reports,
"This test will show a page hosted by Google, and payment via a Google account. This complete and seamless process in-effect locks people into Google's site, without the need to visit competing retailers."
Webmasters sound dismayed at Google's ever increasing dominance. Is "Google" replacing "The Internet" as a cultural and economic concept?
"20 years from now, the saying will be 'I've been surfing Google' instead of 'surfing the web'…" writes user isellstuff. MrSavage writes, tongue-in-cheek, "Websites are so 2000's."
MrSavage goes on to suggest that they can't see the benefit of this move for online stores. What do you think?
How Do You Transcribe a Video on Youtube?
If you've got a newscast or, for instance, a Google hangout with John Mueller that you want to transcribe from a Youtube video, you could do it the hard way with pen and paper…but is there an easier tool?
Getting videos transcribed is also an important part of search marketing for some folks. If you know of a resource, the users of Cre8asiteforums would love your help!
Let's Talk About Off-Page SEO!
On SEO Chat, Fathom has a great rundown of off-page techniques, which begins
"The first thing people think about with OFF-page are links to your site…you have no control over them so focusing your efforts on that aspect will only get you in trouble."
Instead, Fathom and other users delve into "off-page but on-site" and the Backpath. With Penguin and Panda refreshes looming, this is a great topic to read in order to get your head straight about what off-page should be.