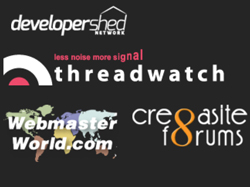 Sometimes rough-and-tumble, often contentious, frequently entertaining, but always educational: that describes our SEO communities in a nutshell. So what has everyone been up to this week? I'm so glad you asked.
---
Threadwatch
We'll kick off with Threadwatch. It's definitely not "all Google, all the time" here, but the search giant did seem to inspire the largest amount of buzz this week.
Is Google racist? That's the question Shawn Collins brought up in submitting an item related to Google AdWords behavior. Seems a researcher named LaTanya Sweeney discovered that searches on Google of "so-called sounding black names" were 25 percent more likely to deliver an ad for a criminal records search. Those who commented on this post didn't seem to think this might be racist. Even so, the article itself is worth a read. Funny, I get NO ads when I search for my name on Google – just links to an artist, a singer and a baseball player with the same name.
You may be tired of hearing about PageRank, but DocSheldon submitted a Matt Cutts's video that explains why Google is keeping PR numbers in its toolbar, despite the fact that so many link spammers use that information to help them. It turns out a lot of regular searchers use it, too, to help them determine the credibility of a website before they make a purchase. One commenter, bwelford, suggested that "Google should figure out how to linearize AuthorRank so they could show that via a 10 point scale…Wouldn't a Toolbar AuthorRank scale have much more appeal than a Toolbar PageRank as a measure of credibility?" DocSheldon himself criticized Google's line of reasoning for keeping PR: "The fact that a lot of people use it doesn't make it any kind of a reliable metric for telling them what they THINK it does." You'll find some lively discussion here!
---
SEO Chat
Touching on some very practical issues of ranking, the members of the SEO Chat forums found themselves dealing with ranking challenges, Google bugs, and the inevitable question of quality.
You think YOU have optimization problems? Try optimizing a website that provides notification sounds, as one poster explained. Fortunately, NathanielB is full of ideas: "…add a review or comment system to your site and ask your visitors/users to leave a short message or full review…write a little content telling people what the sounds could be used for…" Have more ideas? Join the conversation!
Speaking of visibility issues, if you seem to have lost most your WMT links, don't panic. It's not you; it's Google. Dr.Marie brought the info that "WMT is now only showing the links that go to a page other than the home page." It's a bug that Google is working to fix; your links are there, and they still count. DarrenHaye observed that they might be showing even fewer links than you might think, just from this information; he got a notice indicating he had 12 total links "from a site with 100s of quality links to the homepage."
Quality links get highlighted on anther thread that wonders if SEO is dead. The original poster asked the classic question of "Why am I not beating my competitor in the SERPs with these stats?" You might think, from just the numbers, that he should be higher – but as joshz points out, "Numbers don't matter. Quality does. I've seen sites outrank sites with 10k links with a few dozen powerful links." And realityhack got even more blunt. After describing himself as a picky person who hates everything, he asked, "Can you honestly say that you have something I would want to read/use/etc? Because that is how you make me link to your site after I view it. And that is how you keep up with or beat people who are getting links from visitors."
---
Cre8asite
Cre8asite seemed to be THE place to ask questions and discuss the future this week, as registrars, accessibility issues, and authorship verification and more all came up in various threads.
Looking for the best domain registrar? You'd think we're telepathic then, as there's a wonderfully active thread going on asking for alternatives to Godaddy. You'll also find some side discussion as to why some are looking for alternatives (turns out it's not just that SuperBowl commercial), nightmare stories (remember RegisterFly?), and more. At the very least, it will help you crystalize in your own mind what you do and don't want in a registrar and/or a web host.
Ever wonder how disabled people use the Internet? Former moderator tam shares a link to an article with videos that show how accessibility code actually works for users. It's worth a look.
One theme brought up in Threadwatch that also pops up here is authors – in this case, the ability to verify authorship and some anomalies that some of our posters noticed. This topic inspired a rant of sorts from EGOL: "A problem that has always existed is that content thieves can grab your work and publish it on their website without your authorization. They can still do this if you claim authorship and they can say that THEY are the author. Now, if Google prevented that from happening, filtered unclaimed copies from the SERPs and swatted down spun versions…they I would by pizza for everyone at the plex." There's a LOT of good discussion here; read, comment, and your time will be rewarded.
---
Webmaster World
Finally, over on Webmaster World, advertising came up as a major issue.
What do you think of Gmail showing ads? Microsoft thinks it's low; they just launched a campaign to make users more aware of Gmail's targeted ads – to show Microsoft's Outlook in a better light, apparently, as Outlook doesn't show ads based on the content of users' email. Member swa66 all but called Microsoft a hypocrite: "And if you think that hotmail, bing and all other online free stuff from MSFT all do not track you to get more bucks out of advertising, then think again."
Speaking of Google ads, they've started popping up in an unexpected place: on Yahoo. The original thread poster reported that "Sources say Google is set to begin running some of its AdSense display ads on Yahoo sites…" Our members' reactions have been mixed. Some were surprised; others were resigned. Swanny007 noted that "I didn't see that coming, but I shouldn't really be surprised considering Marissa Meyer moved over to Yahoo…Silly me, I thought she was going to build a strong Yahoo independent of Google." Harsh! Sgt_Kickaxe figured there's information at stake, not just money, since "Google can now gather metrics from Yahoo and you know they are chomping at the bit to do so." But engine found a positive side to it: "As an advertiser (as well as an AdSense publisher) it brings greater opportunities, and brings, imho, better quality to some of the weaker AdSense sites in the inventory. As an advertiser, I welcome it."
That's all for this week. Until next time, stay chatty!