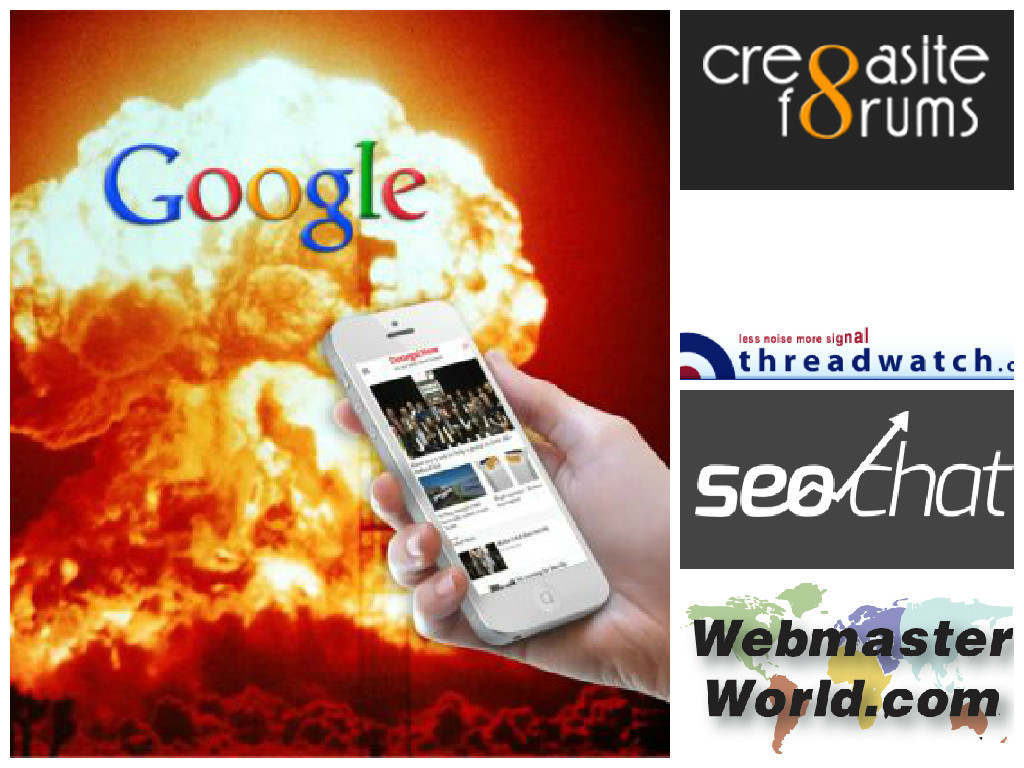 Google's mobile algorithm update, popularly dubbed "Mobilegeddon," rolled out this week. While there has been some shuffling in the rankings, for many members of our communities it's like waiting for Christmas: will Google-claus bring you presents or coal for Mobilegeddon?
Google's own Official Webmaster Central Blog states that although the mobile friendly update began rolling out on April 21st, "it'll be a week or so before it makes its way to all pages in the index." So if you've noticed a distinct lack of…well, apocalyptic changes, that's probably because the meteor is still slowly falling toward impact.
That means that for many people who haven't noticed an effect on their websites, these next few weeks will be filled with speculation and observation. Sound fun? Well, that's because will be! Everyone loves a good mystery – none more than the excitable investigators who frequent the communities.
You can keep up to date by following along:
SEO Chat: Mobile or Not Here we Come. 
For many users, the initial day of Mobilegeddon was quiet and uneventful. No changes were reported in UK travel related searches – or other mobile searches. "In general," says one of our senior members, "you likely won't see any difference even if there is a difference, for at least a week or a month." SEO Chat's members speculate that over the course of the next month, webmasters might notice a trickling in or out of 50ish users a day as the algorithm rolls on.
Webmaster World: Google Mobile Algo – April 2015 Roll Out
Users on Webmaster World reported a variety of effects from Mobilegeddon. In the UK, many users said that they saw little to no change in mobile SERPs on the first day. Non-mobile pages even continued to rank above mobile friendly ones, much to some users' surprise and chagrin. But for some, the impact was instantly felt. One user, who works with a 15-year old education site, saw about a 15% improvement. "We went fully responsive about 12 months ago, showing as 'mobile friendly' in both G and Bing," they said. Some users saw this as an opportunity for learning – waiting a month and observing the impact on their sites, they say, will be a good way to learn exactly what effects the new algorithm will have. For those who are feeling the effect, there are "significant differences between desktop and mobile search." The data points are filing in – join the discussion or follow along as we piece them all together!
Cre8asiteForums: Mobilegeddon Impact
On Cre8asiteForums, users aren't expecting much from Mobilegeddon. Some shuffling and minor differences on mobile search results have been observed, but for the most part users are waiting, watching, and forming their strategies. "If your site isn't hit," one senior member says, "it could benefit as other sites are hit. All to be determined in the next couple of weeks." Follow along, as there's sure to be some good thoughts on user experience as well as SEO in this thread!
If forums aren't your fancy, you can also tweet your best apocalypse-themed Google puns and hypothetical situations to one of our Twitter accounts, too!
Meanwhile, Bing has hit a major milestone of 20% of the search market share! Feeding on the losses of Yahoo and Google between February and March is bringing some much welcomed and healthy competition back into the search engine scene. Do you think this trend will continue? What effect, if any, will Mobilegeddon have on the market share split? Throw your hat into the ring on Threadwatch!
How Long For Responsive Site Update to Google SERPs Showing Mobile Friendly?
Before Mobilegeddon actually landed, many SEOs wondered when they would get Google's seal of "mobile friendly" approval. For some, it took less than 48 hours for the "mobile friendly" tag to appear next to their website's listing. But then, like now, there was little noticeable difference in rankings. What was your mobile friendly adventure like?
Google Switches Mobile Search To Show Real-World Names
Besides the algorithm, Mobilegeddon brought other changes to the mobile SERP table. Instead of seeing URLs, you'll now be seeing the "real world" names of websites in mobile search results. Along with this change comes some new schema.org structured data for you to mark your sites up with. But, as one user succinctly puts it, the schema.org code seems "clumsy and torturous." The implications of real world names being used has many users concerned, too. What happens when multiple sites share the same real world name, despite different URLs?
Google Is Removing The URL From Mobile Search Results
On Cre8asiteForums, users were talking about yet another Mobilegeddon update – besides real world names, URLs might also be replaced with breadcrumb navigation. The reason, one user explained, makes sense from a user experience perspective: "on the small screen often the url in the results is truncated…[which] means that a significant number of page urls convey absolutely no information to visitors." The user continues, "…yet another test to separate the capable SEOs (and the usability capable) from the pseudo."
Emoji Icons in Google SERPs. Really?
If all the serious changes have you feeling exhausted, maybe this light-hearted update is just what you want to hear about. Google and Bing are both adding emojis as symbols that webmasters can use to tag their titles. The emojis have been seen on both desktop and mobile SERPs. What do you think – is this a potential tool for spammers, the death of the Internet, or just a bit of fun? Share your opinions (especially strong ones) on Threadwatch!