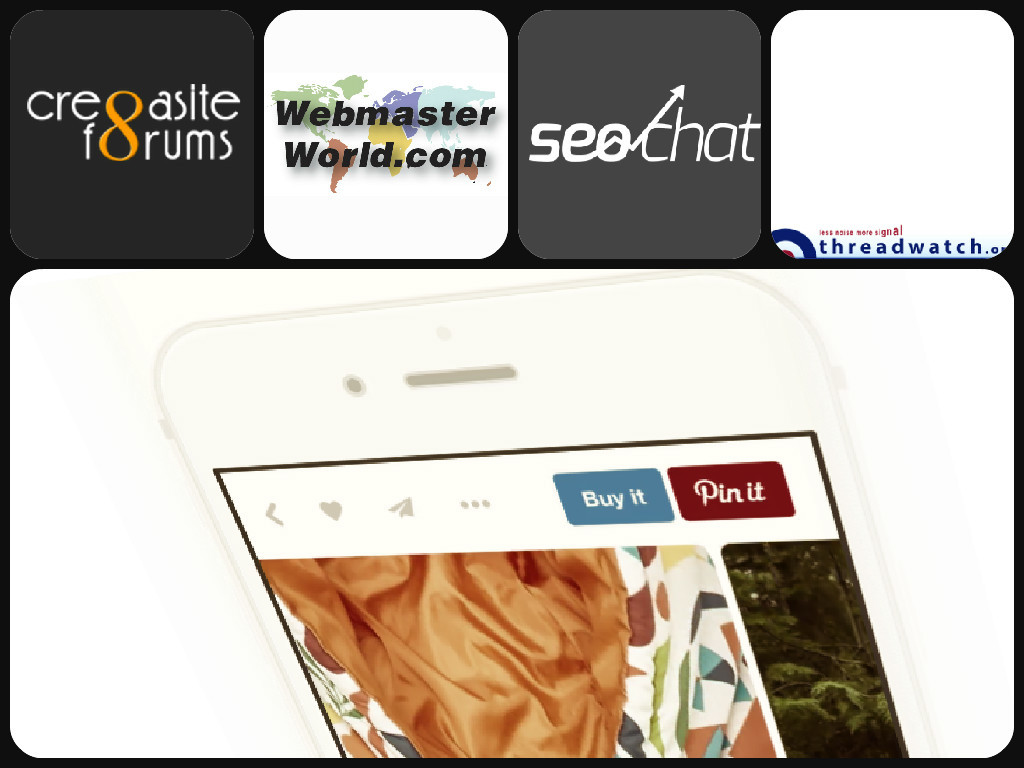 Welcome back to another community roundup! We've got some juicy industry news about everyone's favorite webmaster, Matt Cutts, as well as yet more Mobilegeddon coverage.
Cre8asiteforums has been absolutely hopping with great topics this week, too! And we'll take you back to basics to examine SEO terms in a new light. It's not to late to join one of these discussions either – so if something inspires you, go with your gut and sign up!
A Study From Stone Temple Claims 50% Rank Drop For Non-Mobile Sites
Just last week we were talking about the supposedly lackluster impact of Mobilegeddon. But this week, a new study from Stone Temple is saying, "Don't let your guard down!" According to Stone Temple, nearly half of the non-mobile friendly pages that they studied fell in rankings. Twice as many non-mobile friendly pages lost rankings as gained them. The reason why it felt like mobile friendly pages didn't make the huge gains that were expected is due partly to the Quality Update and partly to the fact that many of those pages ranked well already. But on Cre8asiteforums, some users are hesitant to believe the whole story. "There's too much we don't know about the study and I suspect that there's an awful lot of things they don't know about how google handled their controls (or lack of them)," says user Grumpus. Where's the truth?
The Differences in How The SEO and User Centered Design Industries Interpret Common Terms
UX, search behavior, mobile friendly, information architecture…if you move in SEO or user centered design circles you probably hear or read those terms a dozen times a day or more. But they mean different things to different people. SEOs and user focused web designers might have a lot to learn by walking a mile in each others' shoes. Join the users of Cre8asiteforums as they explore different perspectives and definitions, and how they shape our digital world.
How Accurate is Dwell Time as a Search Engine Algorithm?
Dwell time, or the amount of time that a user spends on a web page, is just one of many factors in Google's algorithm that determine how a site ranks in SERPs. Compared to the other big ranking factors, it's not as well understood. Users on Cre8asiteforums share some personal experiences and research data as they try to determine the importance of dwell time. User EGOL shares an interesting story from 2004 – "In 2004 I watched a very good article on a very weak domain that targeted a rather competitive keyword…At first and for a long time it ranked horribly. But, slowly, it pulled a little traffic and gradually, over two years later, crept up into the top position…" Is it dwell time that got it there?
Buy Buttons Are Coming to Pinterest
According to Pinterest, there's a lot of demand for the ability to buy all the things users find and pin to their boards. Starting with iPhones and iPads, that will soon be possible. Orders will be placed with Apple Pay or credit card. Is this the beginning of a new and social Amazon? "The real fun will be if this takes a bite out of G…" WebmasterWorld user tangor says. Because, as you know, Pinterest isn't the only platform adding buy buttons to its pages…
Google Confirms "Buy Button" to Appear "Imminently" in SERPs
Leave it to Google to choose an ominous word like "imminent" to describe the time frame for the arrival of buy buttons. Seems like everyone is trying to nudge into Amazon's territory! Using a buy button in Google's SERPs means you won't ever have to leave Google to do your shopping. There are a diversity of responses on WebmasterWorld "So, Google wants to control ecommerce across all industries? I would like to know what the FTC/Department of Justice thinks of this…" says user mrengine. Senior member EditorialGuy replies, "According to the article, the 'buy' button is about improving conversions for mobile ads. Some advertisers will use it, and some won't. It's their call." What do you think? Is this a useful tool that Google is providing, or a move to control more market share? Both? Neither? Join the discussion!
Monitoring Bounce Rate From Google SERPs
"I'm not a huge fan of blindly monitoring bounce rates because it can be a noisy signal," says WebmasterWorld admin goodroi. "BUT it can be very valuable if done properly." Top contributors from all around WebmasterWorld are joining this discussion to explore bounce rates, how they work, and what they mean. A perfect workshop for SEOs looking to broaden their horizons.
Which (Old) SEO Methods Should I Ditch – And Why?
SEO is this, SEO is that…what is and is not important changes with the times. It can be hard to catch up again if you take a long hiatus from the industry. This thread from SEO Chat is a great discussion for taking stock of your SEO toolbox. So which methods deserve the boot? "Keywords in description tags because they are no longer an element of SEO," says user KernelPanic. Fathom adds, "Ditch all of them…Do SEO as if there are no search engines!" What was valid in 2003, but no longer applies?
Unnamed Person Taking Over Head of Google Web Spam Team for Matt Cutts
Matt Cutts continues to be on leave, and Google has announced his replacements – that's right, plural. It seems like the role is being split in half: one person to be the public face and the other to be the back room operator. Hopefully that will mean that each person has more time for their individual tasks!
Google I/O – Unlimited Image Storage and Further Venturing Into the Internet Of Things
Have you been keeping up with Google's I/O conference? If not, one of our intrepid Threadwatch reporters has a great roundup of news and developments! Among them are news of Google photos free storage, an "Internet of Things" partnership to develop a new tech toy in late 2015, and the mysterious "Project M," which has raised the hackles of some privacy advocates. Take a look!