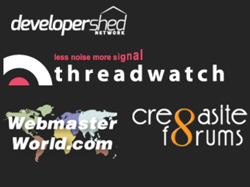 If you're wondering what everyone has been talking about this week in the field of SEO, look no further. In this post, I'll be covering some of the most interesting comments and discussions on the busiest, most popular SEO-focused communities online.
---
Threadwatch
We'll start with a quick visit to Threadwatch.
You'll find a lively (if cynical) discussion on how to go about building a link network. There are many good comments here, particularly in the exchange between goodroi, who kicked off the discussion, and Duane Forrester, who works for Bing. While goodroi insists he was just "brainstorming" and thinks that engaging in this unethical behavior is "stupid," he adds that you can't pretend it doesn't happen.
Our own Ann Smarty submitted a story about someone trying to remove all traces of their existence from Google – and one of the readers of the article couldn't resist making this astonished comment: "You remove Google for privacy reasons, but as an alternative you're still on FACEBOOK???"
---
SEO Chat
The forums at SEO Chat will keep you busy for many hours with all of the interesting ongoing discussions. I know; I've personally killed a lot of time there when I probably should have been doing something else!
In one recent thread, Doodled noted that he's "starting to believe that Google will be taking reviews into account more when ranking pages – especially company or product pages." He then goes on to discuss three different kinds of sources for reviews. This thread generated a lot of thoughtful comments, including one from eddyf noting that "Two of my competitors had their reviews wiped off resellerratings completely. I assume they tried to generate false reviews. So yes, from a standpoint of SEO and sales conversions, take advantage of reviews and keep it legit."
You'll also find active discussions of what to do if your site was hit hard by Penguin , and how to prioritize between doing SEO and site redesign.
---
Cre8asite Forums
Cre8asite Forums encourage the creativity of its members even as it acknowledges the challenges of highly competitive field.
For example, one poster this week bemoaned the challenges of being in a little fish in the real estate business, fighting to get noticed among so many national and even international companies. Chuck Finley, one of our moderators, chimed in with a great metaphor: "Think like a customer. A contractor long ago fixed a roof leak at my grandmother's house that a trail of contractors had tried to fix and failed. He said, 'You have to think like a raindrop.'" You'll find plenty of other great advice on thinking differently in the same thread.
You may also want to check out the very lively discussion of how to handle it if your website covers an uninteresting topic  – what can you do to make it interesting? As jonbey observes, "Surely every topic is interesting to somebody, otherwise there would be no point in having a site/business, would there? And if it is uninteresting, then this generally means no MFA competition. Should make life a lot easier." Always look for that silver lining!
---
WebmasterWorld
Last but not least, there's WebmasterWorld:
Here you'll find a heated discussion of a recent interview of Google co-founder Larry Page, on why his company has a separate division working on things like self-driving cars. Page says that he thinks "we need to be doing breakthrough, non-incremental things across our whole business," but right now they can only devote one division to doing it independently. But wheel is unimpressed by this; he observed that "The very fact that they [Google] can throw gobs of cash at things that are completely unrelated to their business model shows that they have little accountability when it comes to spending. It has nothing to do with them being better or more idealistic. It's simply they have too much cash and no accountability, so they can indulge in a corporate style of hedonism." Major burn! Check out the debate here.
You'll also find a lot of back-and-forth discussion surrounding Facebook's new Graph Search, a tool for searching Facebook content. Is it truly useful, and a possible Google killer…or only worth it for finding old political- and cat-related posts? See for yourself in the thread discussion.
That's all I have for this week. See you next Friday; until then, stay chatty!