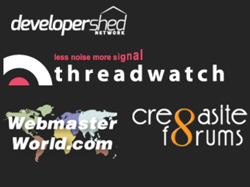 Welcome to another busy week on your SEO communities! Whether it's profits, website design, traffic issues, or whatever help you need to run your online business, it's come up for discussion this week. Let's dive right in.
---
Threadwatch
We covered matters big and small on Threadwatch.
---
SEO Chat
To buy or to build…to subdomain or not to subdomain? These and other questions came up on one of the most educational SEO forums online.
---
Cre8asite
Though there's always plenty of interesting conversations going on in the Cre8asite forums, two in particular stood out this week: a warning about the effect of changes to Google Image Search, and an interesting consensus emerging that concerns the display size on which website designers should focus their efforts.
---
Webmaster World
You know the talk ranges all over the place on Webmaster World, but here are a couple of items that don't deserve to get lost in the shuffle: a warning about how a particular kind of JavaScript can unintentionally get you booted from AdSense, and some opinions about Yahoo!'s new look.
And that's it from me. Stay chatty!