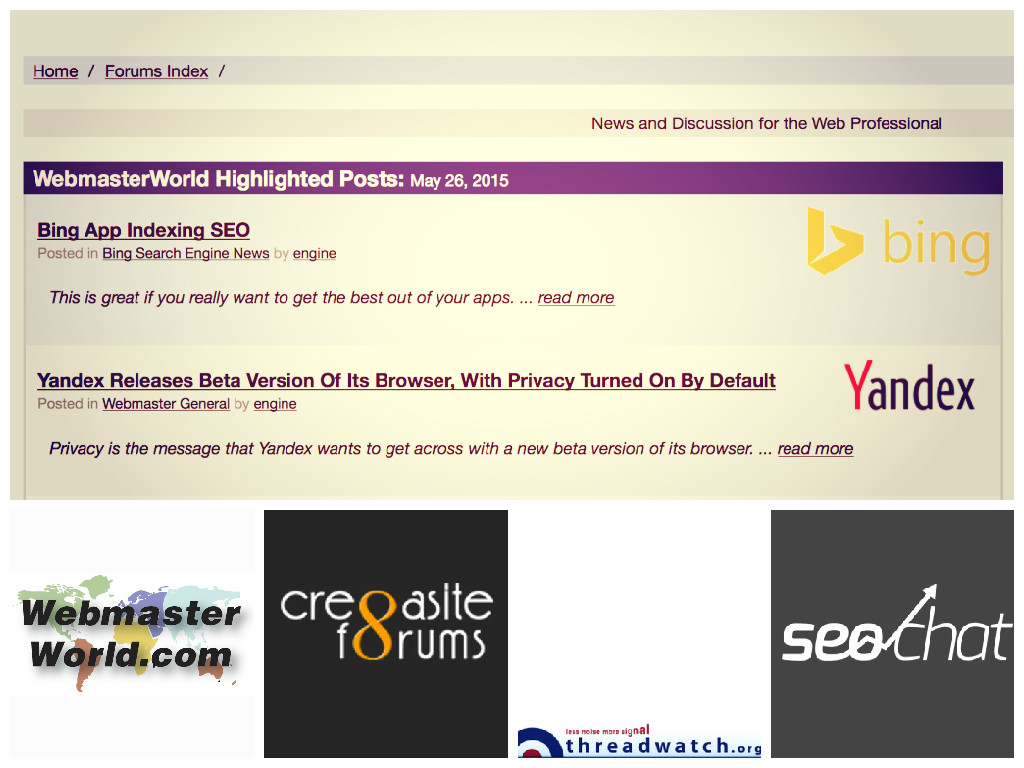 It's an exciting week for our communities! As we continue to grow, old faces are returning to say hello and share their time with us.
Speaking of faces, have you seen WebmasterWorld's shiny new face-lift? It's pretty spiffy, you should take a look!
And while you're there, you can scope out some of the great discussions happening – three of which I'll present for you below.
Meanwhile on SEO Chat, senior member Fathom has been dissecting and rebutting a transcript from a John Mueller Q&A. And on Cre8asiteforums, EGOL has found a new content writing tool inspired by Ernest Hemingway.
The Masses Confirm That There Was Just A Wee Bit of Hype Around "Mobilegeddon"
Well, you probably don't need to be told this but…seems like the jury has reached a conclusion about Mobilegeddon. Still, in its wake, there are questions worth asking. What's the value of mobile optimization? Was it worth the hassle? Moving forward, how can you separate the "noise" from the news that you need to "sit up and pay attention to?" Head on over to Threadwatch and join us for a frank conversation.
Mobile Is Not Destroying Desktop Traffic
A piece in the Wall Street Journal which cites comScore data proposes that while mobile traffic has grown…it wasn't at the expense of desktop traffic. With the flurry of "mobile is the way of the future" articles that lead up to Mobilegeddon, it's understandable if you thought desktop was going to take a dive.
"I have not seen any older clients without responsive design or a mobile app get any decrease in traffic. One of them is actually doing much better since the change," says user travelin cat.
User weeks provides some insight into how mobile vs desktop traffic has affected the web design business: "For people who build websites for others, mobile has given them more work. But not as much as you might think…There was a period of time…that website builders could charge 'extra' for mobile. Now? Forget it…" What has your experience been?
Martinibuster Shares A 2015 On-Page SEO Ranking Factors List
A juicy yearly joy – WebmasterWorld mod martinibuster has provided a list of ranking factors that are important for 2015, as well as a list of factors that have been deprecated since last year. Among the important factors are UX, short title tags, original content, and quality site design. Meanwhile, keywords, longtail phrases, and lean code have been deprecated. What do you believe are the most important on-page SEO factors for this year? An excellent discussion for anyone looking to stay up-to-date.
The New And Improved WebmasterWorld Is Here!
Jim Boykin announces the new responsive design for WebmasterWorld! "This project has been a massive undertaking, not just because we're switching to responsive…but for all the other changes that are under-the-hood to make it all work." You'll find WebmasterWorld to be smoother, clutter-free and, as user sugarrae says "faster, which makes it much more appealing to use." We'd love to hear your thoughts on the new design – and this is the thread to share them in!
The Hemingway Method for Content Writing: A Gem of A Tool
User EGOL has discovered an online tool called "The Hemingway Editor" to help write better content.
"…you can copy/paste content into [it] and it will give you some hints on where it can be improved or better yet – simplified," EGOL writes.
For those of you familiar with Hemingway, the tool does what you'd expect – puts an emphasis on simplicity, elegance, and forthrightness. You can measure the number of adverbs, your use of the passive voice, and see which of your sentences are difficult to read. Give it a whirl!
Fathom Tackles Nine Questions (and Answers) From John Mueller's May 19th Hangout
In a Google hangout on May 19th, John Mueller gave a widely quoted answer to a question about Panda and Penguin refreshes. But that wasn't the only question he received. He also answered questions about duplicate content, page speed, rel=canonical tags, and more. You can read about some of these questions and Mueller's responses in this thread. More importantly, you should take a look at what senior SEO Chat member Fathom has to say about them.
"Straight up…taking John Mueller's SEO advice without an in-depth thorough review of your domain/website is a critical error in SEO logic," he says. Read the rebuttals carefully, and feel free to ask questions if you have them!
How To Find Linkless Mentions Of Your Brand
Finding linkless mentions can be like searching for a needle in a haystack. But even a needle can be found with a strong enough magnet. In this thread, the users of SEO Chat are swapping tools and techniques for pulling linkless mentions out of the ether. We'd love to hear more ideas from the community! What works (or doesn't work) for you?