Rhea and I had a bit of a Girl's Night last night. We went to dinner and chatted about our lives€¦which really means we talked a lot about work and clients and everything we have planned at We Build Pages. (I know; we're exciting people. Shut up.) And when she was drunk off Diet Coke, she let me in on a little secret:  Rhea gets scared sometimes.
Rhea the Perfectionist is sometimes afraid of doing her job too well. Afraid of making our reports so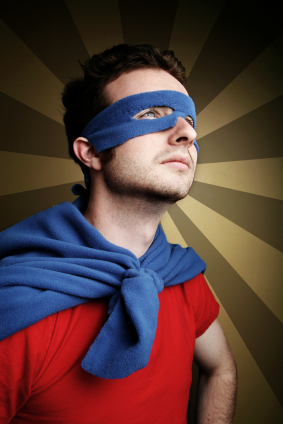 comprehensive that a client has everything they could ever want and may be encouraged to take that information and go it alone.  Despite that, she knows that she'll never give anything less than 120 percent (Rhea likes to work 14 hour days€¦) to her clients, in both information and raw energy.  She knows that when you're a starving client, there's no such thing as too much data. You can't have too many tools in your arsenal to improve your site. And she works her butt off to give them that.
As much as we kick and tease one another sometimes, even I recognize that Rhea is a superhero.  Truthfully, there are a lot of superheroes here in Troy. I think it may be a requirement to becoming a ninja or something.
During my time in SEO, I've worked with two of the greatest Internet marketing companies on the planet: Bruce Clay, Inc. and We Build Pages.  Both of these companies pride themselves in education. Bruce Clay, Inc. makes each of their clients attend training, even if they don't want to. At We Build Pages, we educate in different ways — through consulting, through reports, through our methodologies, and through our daily interaction with clients. Both companies give their clients every ounce of information they have so that the client benefits.
But apparently it's not like that everywhere.
I've heard war stories about companies who withhold information or lock clients out of their own accounts. They're afraid you'll take your account away so they don't tell you what they're doing or what keywords you're going after. They don't give you the login to your Webmaster Tools account and they don't go into too much detail in their reports or during calls. They'll do the work and they'll give it about 85 percent-90 percent, but you're not getting anything outside of that. It's like the supervisor who's secretly jealous of the new intern.  They'll teach you€¦they just won't teach you enough to take away their own value. They want you to be dependent on them for survival.
As an SEO company, how do you combat that?
First, I think you get yourself a prescription to deal with all those unhealthy control issues you've got going on.   After that, I think you put those fears out of your mind and focus on being a ninja superhero.
As ninja superheroes, we fight for our clients. We do our best to keep them ahead of the curve and out of trouble, and we give them all the information they need to become superheroes themselves.  We want them to know what we're doing. We think they have to know if we're going to be able to work together and ensure everyone's on the same page. Maybe my view is skewed and I'm just spoiled thanks to my previous employers, but I can't imagine doing SEO any other way.  I can't swallow the idea that we need to be less in order to hold on to clients.  If you're trapping your clients into staying with you, you must not be a very good SEO.  You must not have all that much to offer them.
I'm curious to hear how other SEOs deal with this fear, though. And whether or not clients of SEOs feel someone's holding something back somewhere.  Thoughts?
[If you need help being a superhero, this has always worked for me.]