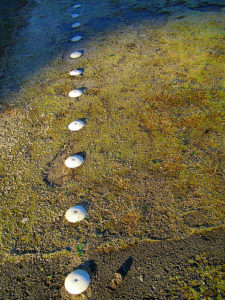 One thing that never fails to amaze me is when I hear people reject social media's influence on SEO. Usually, it is in the form of doubting it's significance with the algorithms. But many times people seem to not even draw the most basic connections when it comes to social's influence on search. A few years ago at Pubcon, I spoke in depth about the speculative nature of social's influence on Google's algorithms. I will admit, back then I thought by now social would be playing a much larger role than it is, but I still see huge benefit in social for SEO beyond the algorithms. Because one thing that still remains true is, it doesn't matter whether social media influences Google's algorithms, because social media has always influenced the fundamentals of SEO. And that will remain true as long as search engines try to predict value of web pages.
Here are just three areas of SEO that social media influences every day.
Social Media Builds Brands
I am currently reading a really great book. And while the author might disagree with me, in my mind, social media can and does build brands. As time goes on it becomes increasingly obvious that Google loves brands. They have even gone so far as to structure many of their search patents to identify and rank brands in the SERPs. But don't take my word for it, see what others are saying too. And, if you need some inspiration check out these great examples.
Social Media Builds Links
How many of you remember link building before social media went main stream? In my honest opinion, building links has gotten harder now that social is so popular. It used to be that all content creators, and commentators had the ability to link. Now a days content creators are moving more and more to social networks that don't provide any link value because of "nofollow"s. So what does this mean? It means that the linkerati are getting smaller, and smarter. But, with just as many pitfalls that social media presents for link building, it can also provide equal amounts of advantages in the way of curating and distributing content. Which in turn can help with prospecting, engagement, and analysis; all crucial elements to link building.
Social Media Builds Content
Wanna hear one of my best secrets to content creation? Ok, here it is…. the best content creators, have an almost innate understanding of social networks. In fact some are developing huge companies just by leveraging this understanding of the social web. But we all know that content isn't always created for the sake of creating content. In fact I would say that the vast majority of content that is being created now is primarily user generated.  Understanding how to collate and leverage UGC can help many content creators jump leaps and bounds over their competition, and there's a whole slew of tools available to help with that!
Until next time, happy socializing!