Yes, we've written about Author Rich Snippets in the past, but as you all know things quickly change on the interwebs. Google now recommends Microdata formatting for rich snippets. Rich snippets are what Google displays when it has appropriately structured data from your site. Google defines Snippets as:
"Snippets–the few lines of text that appear under every search result—are designed to give users a sense for what's on the page and why it's relevant to their query."
But what is this elusive Microdata?
This post will evaluate the technical implementations of Microdata specifically for Author Rich Snippets, while giving a brief history of the specification. We won't cover why it is important to designate Authorship for SEO purposes since we've already done that. Let's take a wee bit closer look, shall we?
---
A quick glance at this dense article shows us that one of the current editors is Ian Hickson of Google, Inc.  Well, if Google recommends a spec that they're helping write then all the better, right? Here we can gather a quick definition of microdata in the context of the HTML spec:
"This mechanism allows machine-readable data to be embedded in HTML documents in an easy-to-write manner, with an unambiguous parsing model. It is compatible with numerous other data formats including RDF and JSON."
---
Schema.org started as Data-Vocabulary.org, but gained corporate sponsorship when several large search engines (Google, Yahoo, Microsoft) took initiative to organize and implement a consistent schema. This is where we find a majority of documentation surrounding Microdata, and the proper markup to include in our pages.
Schema.org states:
"This site provides a collection of schemas, i.e., html tags, that webmasters can use to markup their pages in ways recognized by major search providers. Search engines including Bing, Google, Yahoo! and Yandex rely on this markup to improve the display of search results, making it easier for people to find the right web pages."
---
Technically speaking for Non-technical Folk
Microdata is a series of markup that can be included in your page to allow for search engines to quickly associate your data with you, the author. Here is an example of how we use Microdata on our site on Ann Smarty's profile:
  


      
      

Ann Smarty


      

Community & Branding Manager


      

Connect with the Author: Google+ | Twitter | LinkedIn


        


          

Ann Smarty has been working in various areas of the Internet Marketing for 6 years. Ann started working in SEO field when still in high school and she has never had to look for a job ever since.



          

Ann has been a guest author at the most prominent Internet marketing blogs including SEOmoz, Mashable, Social Media Examiner etc. She has been interviewed for multiple online publications and books. Ann is contributor for Search Marketing Standard magazine, a premium online marketing publication delivered via print.



          

Currently Ann guest posts for Internet Marketing Ninjas Blog and runs a personal blog SEOsmarty.com. She also reads a lot and shares the best finds in her Twitter stream as @seosmarty.


  



That first line's
itemscope itemtype="http://schema.org/Person"
defines a Microdata item, and assigns the Person itemtype.
The rest of the code is good ol' HTML, except for the itemprop, which associate properties with our item. For example,
itemprop="name"
associates the person's name.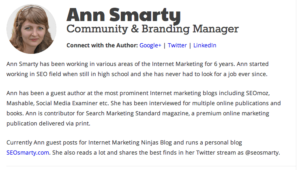 ---
Author Rich Snippets, let's get found!
By properly attributing content to its author we build reputation, and with reputation comes ranking, and with ranking comes a bright future. Here is an example of how you might want to incorporate your own information on your site:
 
  My name is 

Jane Smith

 
  but people call me 

Smithy

. 
  Here is my home page:
  

www.example.com


  I live in Albuquerque, NM and work as an 

engineer


  at 

ACME Corp

.




---
Microdata, or else?
Microdata is only one of a few viable options for including machine-readable author information in your markup (RDF, Microformats). Are you currently using a particular one?
---
Related Posts