I loved getting up in the morning and picking out my all-black outfit, slithering out the door unnoticed and popping up in front of my glowing computer screen. The soft glow was always so comforting, always calling, always calming. It got to be that any light that wasn't created from phosphors was too intense for my cryptic eyes.
I was a ninja…a real life ninja. A occupation that when you are a child is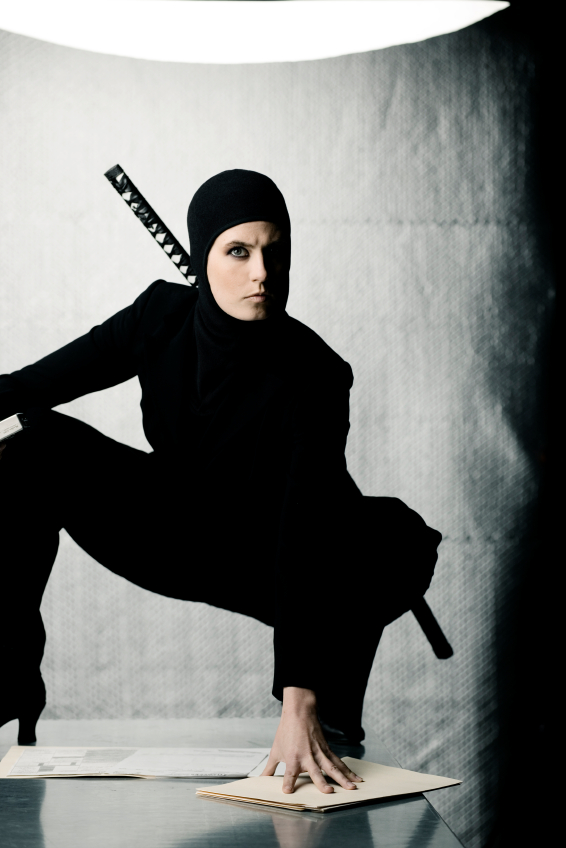 right up there with being a cowboy, mermaid or a princess. I admit, I had originally wanted to be a princess, but being a ninja is pretty awesome, too. I imagined myself as a cool "Angelina Jolie-type" ninja. Sexy, seductive and completely convincing. "You want a link? You got it sweetheart!"
Now…I know what your saying, "whoring yourself out for links is not classy, tisk tisk!" But hey, sex sells! (How do you get your .edus?) And besides, that is just one trick up my sleeve because, you see, when you are a ninja you get to talk in many languages and wear many different hats. Its fun and its the closest thing to acting I will ever get, which was was my second choice in case the princess gig fell through.
After I took my ninja vows I was given a white belt and sent to my sensei. I practiced in the holiest temple and learned from only the best. I worked my way up through the ranks until I had the coveted black belt, a privilege that only the savviest ninjas could achieve. It was cut throat the first few months. I spent hours in training meditation and shadowed the master sensei with deep determination. My work paid off and I became a true link Ninja. Rand Fishkin said it the best, "A true link ninja is so invaluable as to virtually name their price – the return on investment makes it worthwhile."
These were the words we lived by.
I had ninja eyes and told ninja lies. I could tell in a split second if a site was worthy enough for my link, while catching flies in mid-air with my bare hands. My mind was as sharp as a death star and I could give every excuse as to why my link had to be on that page, in that sentence, with that exact wording. I told stories so great that webmasters just could not resist. Some days I was a college kid, some days a biking enthusiast, some days a married mother of four and some days even a grandparent. I formed awkward friendships during these quick business exchanges, some of which carried on for months. I would receive random emails saying something like, "Just wanted to let you know I added some more pages to the site, wondering if you'd like any more ads? By the way, how's your team doing? Did you end up making the finals?" I had to trek back through these long elaborate emails to remember what ads I had posted and which hat I was wearing that day. It was fun, though, and never stopped being exciting.
It became my everyday; a rush to place the meatiest, most creative, juicy ads I could. People would ask all the time about my occupation and at first I just said,"I work in Internet marketing", which was always followed by, "So you answer phones all day?". Once that got to be insulting, I started saying, "I am an SEO specialist". However, that was a slight fabrication but it was also OK because no one ever knew what an "SEO" was anyway. Then, one glorious day, someone asked, "and what do you do for work?" to which I replied, "I am a ninja…" which was followed by a, "wow…that's awesome". No questions asked. It was fantastic.
Our clients soared and applauded our ninja skills and asked us for our secrets. They didn't realize that ninjas are sworn to secrecy, and that we bare the burden of holding life-long classified and unpublished knowledge right next to our ninja hearts.
Our ninja hearts that broke into pieces the day we heard we could no longer do what we were doing. Yes, I will miss some of my ninja tactics like hiding out in secret nooks and cloaking myself from those pesky Google spiders. It was always adventurous, always rewarding and always dangerous for one slight misstep could be tragic, ranking right up there with death.
However, don't think you have seen the last of us, for ninjas are like cockroaches chameleons. We are mysterious, changeable beings, capable of adapting to any new surroundings. We are taught by those who are held in the highest regard as masters of their craft. We may have been knocked to the ground but we have already sprung up on our nimble feet, brushed off our dirty hats and we are ready to take on the rest of the world again.