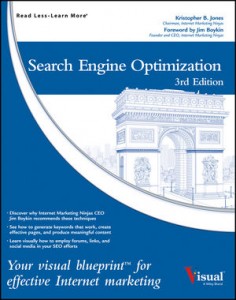 Today I am very pleased to share the news that Wiley publishers have released the third edition of Ninja Chairman Kris Jones' Search Engine Optimization: Your visual blueprint for effective Internet marketing. The first edition was released back in 2008, with the second edition in 2010 and now the third coming this year. Internet Marketing Ninjas CEO and Founder Jim Boykin was also involved, providing the foreword for this edition of a book that has sold over 50,000 copies worldwide.
This book is ideal for small business owners, enterprise marketing managers and executives, Webmasters, Web designers, entrepreneurs, and anyone interested in basic and advanced SEO principals. It is also unique in the SEO world since it's the only visual book on the market. It caters to visual learners who prefer to learn with the aid of images and visual steps to complete various SEO related tasks from keyword generation and social media optimization to advanced website structuring and link building.
Among the new content in the third edition is a chapter dedicated to local search engine optimization, something which Kris has been heavily involved with over the past years. Additionally, the convergence of search and social, the evolution of marketing toolsets, and ethical link building tactics are presented in an easily digestible "how-to" format. It's broken in to 2 and 4 page tasks, which you can tackle in large chunks or one specialty area at a time, in order to enhance your understanding of what is important to success in search engine optimization programs.
See Kris Jones' teaser with a warning about snake oil salesman, and feel free to share in the below comments any tips or ideas you have learned from the book's past or current edition, as well as any suggestions for future content!