Google has made billions by providing their visitors what they want. The ads at the top and side of search results are tailored to the queried term, in most cases. These paid (aka sponsored) results most often provide a solution to a problem, which is identified through Google's intent perception of the query.
But Google isn't all about its paid ads. They want visitors to benefit from organic results, and Google engineers have spent a lot of time over the past few years evolving the searchers' user experience by promoting "Universal" search results. Today, I'd like to write specifically about the Google Knowledge Graph, (note that link is to a Podcast from 2012 – here is the official Google page on the subject) which is becoming increasingly prevalent in search results for individuals, and why it is such an important signal to understand broad sentiment related to these individuals.
Last week, Marion Bartoli won the Ladies Wimbledon Championship. The disgusting sexism that followed has been well-chronicled, including at this Tumblr blog  (please note that there are reproductions of Tweets in this link that will be very offensive to some). Even the BBC messed this one up. I had never heard of Bartoli, so I performed a Google search for just her last name and the following is what I got: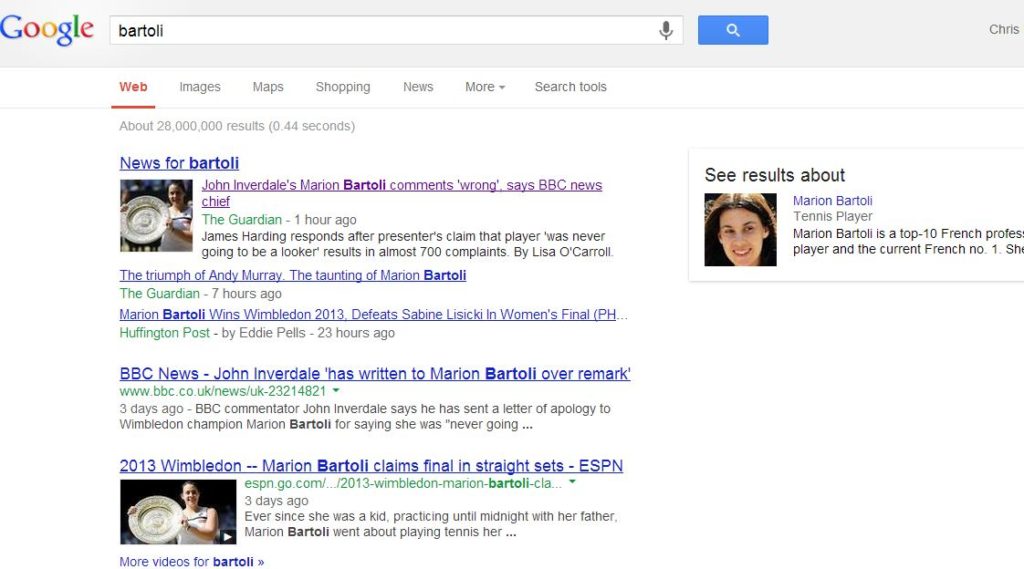 The first thing I felt, since I am so used to seeing expanded knowledge graph results, was that I was not alone in wondering who Bartoli was. The furthest she had ever been in a major tennis championship was the semifinals, once. So I decided to see how the search result looked for her blonder/taller competitor in the finals, Sabine Lisicki: (I also did this search for just her last name)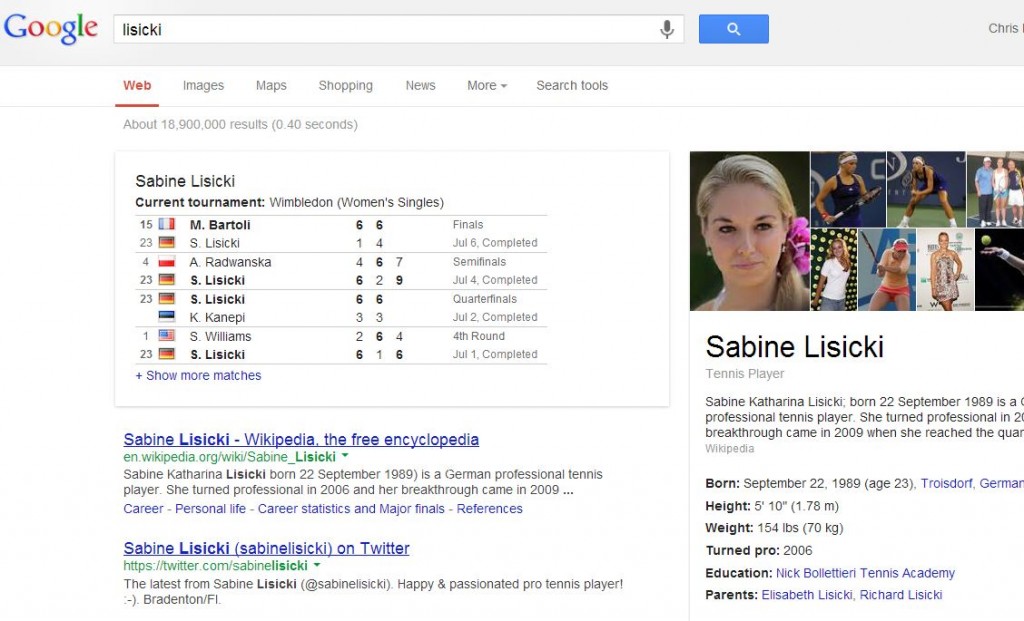 Hmm is Google sexist? Obviously not. However it appears pretty clear that Google's users have found Lisicki to be more interesting in the past, even though she had a similar career to-date (only had advanced to the quarterfinals. One could argue that if you put in Bartoli's full name, she gets the same expanded knowledge graph. However if this was the case, there should likely more than one "See Results About" Bartoli's, since Lisicki only needed the last name to get the full treatment.
My point is that Google has determined that the last name Lisicki is obviously referring to Sabine, and the user behavior (as well as likely higher image search behavior) signals from links and social activity have "blessed" Lisicki with the right to a full knowledge graph. Bartoli will get the treatment eventually, I predict for just her last name, but we can clearly see the authority that has been developed by Lisicki versus Bartoli, from a Google perspective.
What about Brands? Rel=Publisher and Google Plus participation can certainly help get better exposure and knowledge graph treatment, but is that enough? The current answer is simply "we'll have to see." In a likely effort to not provide too much "free advertising" for brands, it is very difficult to find the knowledge graph treatment attained by famous individuals. Britney Spears still has one of the most comprehensive, years after falling off the "top searches of the year" lists. Instead, the wise brands that have invested time in Google+ activity benefit from their own G+ feed on the right navigation area such as follows for COD, but most brands like Activision settle for a local-enabled result like the second below.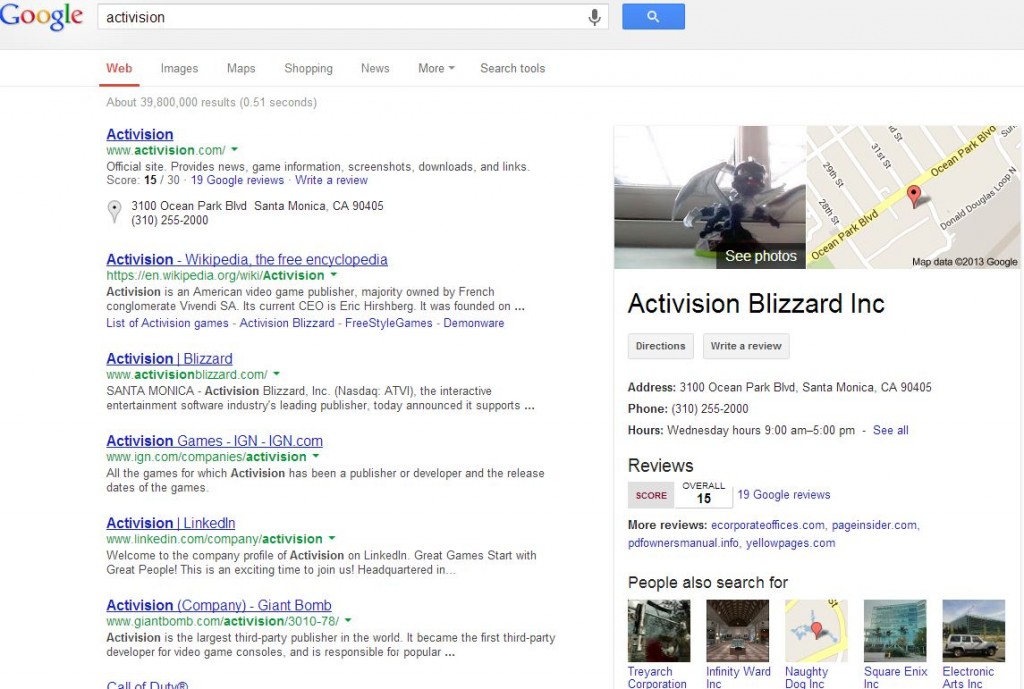 Brands may begin to gain some sentiment analysis value from Google in the future, but as of now if you are even semi-famous and your Public Relations team isn't working to improve your knowledge graph, then you have work to do! Please share your thoughts and discussion in the comments below.