So many times there are businesses, entrepreneurs, solopreneurs that are good at what they do, but nobody knows it. We have people who are afraid to "toot their own horn" and tell the world how good they are at what they do. However, from a consumer point of view, when visiting your site, I WANT to know what you do, what you offer, and why I should hire you. I don't want to spend an hour trying to figure out what it is that you are offering. I want to be able to point and click and have those questions answered.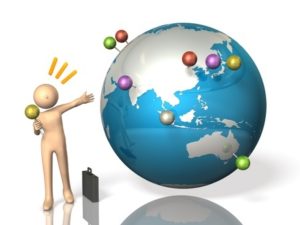 Testimonials
There are various strategies that you can use to get your message out there. If you are really hung up on the bragging part, let others brag for you. Create a "Testimonials" page. It is polite to ask permission before posting testimonials, but if people have already said nice things about you or your company, they are usually fine with being quoted, especially when you mention their company or business 🙂 Some great ways to do this are to use embeds of their testimonial tweets, screen shots of their testimonials on their site, and even asking them outright if they wouldn't mind writing up a two or so paragraph testimonial that you could use on your site. Even if you are not at a point where you are ready to put your testimonial page together, start collecting the testimonials that just happen (i.e. tweets) and consider contacting other clients so that you can give them ample time to write up glowing reports of how wonderful you are.
Also, while putting together your testimonials page, you can put these testimonials in widgets on your WordPress site. There are also random text plugins that you can us. One of them is called "Random Text" and similar plugins can be found in the WordPress database of plugins. (Note: The specific "random text" plugin hasn't been updated for a year. It works fine for me, but you may want to search for a newer plugin that has been tested with your site version, if you are using WordPress.) This particular plugin and those like it work well if you have a large quantity of short testimonials and want to have them rotate in your sidebar or footer on your site.
"Hire Me" Pages
Even the ninjas have a "Hire Me" page that lets the world know what the Internet Marketing Ninjas do and how we can help you. In the same way, as a business, you should have a Hire Me page. This is something that prospective clients will be looking for and will click on if they feel that you have demonstrated that you know your stuff and they wonder how they can benefit from your knowledge and experience.
Gail Gardner is a huge advocate of the "Hire Me" page and offers an article that talks about the benefits, as well as a list of hire me pages by successful bloggers. You can read this article on her GrowMap.com blog.
Media Kit
Media Kits are informational resources used to "get the word out." Media Kits have evolved into something that is like an electronic extension of the portfolio, or a visual resume, for the entity or individual. According to Investopedia, they are "public relations tools that can have several functions…"
There are different ways to approach the media kit and there is not necessarily a right or wrong way. The key is to get started! The beauty of online and internet is that you can change your media kit. With a printed media kit, you would have to go through your change management process and pay the fee for another print run, but with the online version of a media kit, you can throw one together in an afternoon and enhance it over time, as you figure out what works and doesn't work.
Becky Ludlum guest posted and shared a how-to, step-by-step, to setting up a media kit for bloggers using Pic Monkey. You can read her tutorial at learnlikeamom.com.
Another resource on setting up a media kit can be found at katywidrick.com.
There you have it. Three steps you can take today, to get the word out with your Testimonials Page, Hire Me Page, and/or Media Kit. Comment with your link(s) and we will come check it out!