The success or failure of any website depends on the planning that goes into it, from the first ideas to the final product.
Most websites do not have a solid plan.  The journey to launch is often met with decisions based on budgets, in-office politics over content, and battles over marketing strategies and fussing over platforms. There are more likely to be management discussions about branding and keywords than understanding who the target users are.  Entire designs may be created without paying any mind to mental models or creating user personas.  Usability is something that falls into the "maybe later" pile.
---
Gathering Requirements
There are many high level Requirements Documents that include server, programming, backup plans, security, functionality and other technical aspects of site building.  It is important that this information is discussed, agreed upon by all stakeholders and documented.  A system of testing and validation should be implemented to be sure all technical requirements are met.
The same is true for another group of requirements that are either not gathered, or are thrown together last minute or are not fully developed.  Poorly developed web site requirements contribute to website failure.  What areas are most often overlooked when planning?
What is the top business requirement? Your website should have a reason for existing.  Define this. Is your site intended to generate revenue?  Is it a showcase of artwork with a sales lead form?  Is it a blog to post writings?
Who is your target market/visitors?  This is an important detail because it touches on the language and terms used in your content, as well as color choices, design elements and navigation.  Bad design choices, such as certain fads, create issues for different user types.
Design for mobile devices is now a vital requirement for ecommerce sites, directories, and software applications.
Why choose your site?   This is a requirement that is most often not included, but should be.  Since this is one of the first questions your visitors have upon landing on your pages, you may wish to be ready with the answers.
Accessibility is typically at the bottom of the list because it is not understood.  This requirement is much more than adding alt attributes to images.  It includes color contrasts, readability, and code for screen readers, font sizes and much more.  Check out the WCAG 2.0 Guidelines.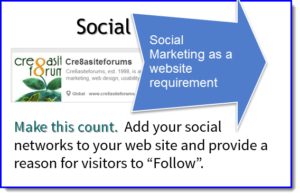 Social marketing is another requirement.  What are your plans?  How will your design incorporate social conversations?
What are the main tasks you want performed on your site?  Special attention is needed here to determine and design sales funnels and prioritizing main user tasks, especially those related to your top business requirements.
Information architecture is the mother of navigation and yet it is neglected.  Navigation tells the story of a website by how it is designed, the link labels that are used and the order of links.
User experience is a requirement that gets as much as attention as usability.  Both are not considered to be as important as marketing and content writing requirements.  The use of sliders, for example, indicates that accessibility and usability were not part of the web site's requirements.  Slow load times indicates that mobile devices are not a requirement.
These are just a few of the most commonly overlooked website requirements.  Every website is unique and has its own requirements, which is why copying other websites is never wise.  Write down everything you want included in your web site, from the design, to target users, to marketing. During the build process and before rolling out to the world, go back and verify that each requirement is met.
A requirements document and the validation process is your way of making sure your website is built exactly how you want it.  The validation process is also proof the work was completed as planned, especially if you are hiring someone to build it for you.