By the time you read this to the end you will be persuaded to use the advice on your own web site or toss off your shoes and do cartwheels on a beach.
Writing persuasive content for web sites is a true skill. When done correctly, all sorts of wonderful delights await you. You will watch your sales increase, bounce rates tumble, referrals go gang busters and search engine rank climb upward. How do you make people do stuff from your web site?
---
Bold and Beautiful Content
Many site owners want to be like Amazon because people can buy just about anything from that site and get it fast. It's not the design that's creating millions for Jeff Bezos. It's his determination to make his customers happy that sells stuff. To do this, his company must know its customers very well. This isn't a handshake-how-do-you-do kind of quick impression of people. I'm referring to knowing us completely, practically down to our DNA.
Most companies with web sites will never do their user research or will dance around focus groups, Google Analytics and eye tracking and call it a day. This is not going to build your online empire.
In 2008, Dr. Peter J. Meyers wrote in Converting the Believers How to Turn Website
Visitors into Buyers,
"Marketing is about creating believers, and online marketing is no different. In the U.S. alone, companies spent over $21 Billion last year driving visitors to their websites and doing their best to turn doubters into believers. For all of the money spent leading believers to the virtual door, though, only a fraction of those companies spent the time and money necessary to convert those believers into buyers."
It's now 2013 and everywhere we go on the Internet we find big brand web sites unable to persuade their visitors to choose their products and services. This means there is ample opportunities for smaller businesses to outperform their corporate competitors.
---
You Had Me Because You Wanted Me
We can tell when a web site wants us there because it is designed to get us what we want, how we want it and when we want it. The design knows a great deal about us and we can tell this because we can use and understand it in just a few seconds. The most common web content mistake is not knowing its visitors. You don't see a gigantic slider on Amazon, do you?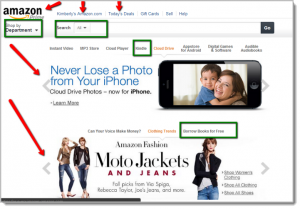 You may find two sets of images to browse through manually, plus if you are a customer, the Amazon homepage knows your purchasing behavior and like a seasoned sales person, is ready to show you all the cool new stuff they have to suggest.
Whether your company is selling products, services or providing information, you must know what your target visitors want, need, hope for, and struggle with. So let's investigate.
---
Content for People
When you write content for people, search engines will follow. It's not the other way around. Search engines aren't buying Dr. Oz's cleansing diet or looking for a new lawn mower. Your web site visitors are.
Use real people and tell real stories. This means more than posting a page of testimonials, ratings and user generated reviews. All of these can be faked. To persuade people to trust you or your company they must have the truth and the best way to offer it is with real people telling real stories.
So many web sites have a blog with a tiny link buried in a fat footer. They pay it very little attention. Go to your blog now and invite readers and customers to tell you their story. How did they like your travel services? Where did they go? Did your easy reservations application do everything it promised?
Are you a teacher or college professor? Help your students understand your course and get a sense of who you are by making a video about your course. Do you sell stuff? How can we know what you have without scrolling through piles of competitors for the same refurbished iPad? Take pictures. Make videos. Interview people.
Know your users. This is not going to be easy. You can't pretend here. Susan Weinschenk has written many publications including one of my favorites, How to Get people to Do Stuff. She rounded up 7 key persuasive triggers known to increase the desire to stay on web sites and make good decisions. These are:
The need to belong
Habits
The power of stories
Carrots and sticks
Instincts
The desire for mastery
Tricks of the mind
When you write your content, put yourself in your visitors' heads. If your web site is about hospice, cancer treatment or a directory of specialists in the healthcare field, consider the emotions of people while they visit your pages. They may be frightened and fear loss. How you write, from the terms you choose to the colors for your pages, must acknowledge their feelings and address their needs by making the information easy to find and understand.
Some fashion clothing sites do a better job of making women feel badly about how they look rather than providing content that helps them feel special. These sites use pictures of women paid to look perfect. Rarely will you find a fashion site with product descriptions written to make women want to try a new style. One of my favorite sites is Etsy because many of the store owners model their crafts, jewelry and clothes by using either themselves or friends. Again, this is just using real people to help customers make decisions.
Another known behavior is when people filter out information they don't agree with. Your content should challenge people while not pushing them away. Share opinions while being considerate of the many cultures and countries your web site appears to. Write with terms that don't require a dictionary to understand what you mean. Great writers write web content that is friendly and creates confidence in the reader because it makes them feel good, such as proof of customer service satisfaction. Many online forms and applications are abandoned because there are no user instructions or assurances about security and privacy.
Does your web page contain a header, footer, right sidebar, left sidebar and body content packed with links? Stop to consider how this would translate in a real life conversation with someone. If you were listening to someone who could not complete a sentence without veering off to a new topic every few seconds, would you lose interest? What if a salesperson saw you enter their store and immediately began throwing shirts, slacks, dresses, scarves, earrings and store gift cards at you, hoping you will not only catch them in your arms but buy it all?
"A collection of links cannot create or sustain an argument or deliver a collection of facts as efficiently or legibly as conventional linear prose. When there is no sustained narrative, users are sent aimlessly wandering in their quest for information. Links should be used sparingly and never as a substitute for real content." – Source: Web Style Guide
Calls to action are a term that every web designer wishes somebody else would do because sooner or later they come to realize that size and color are just a small part of the deal. Green means go. Red means stop. Orange with white text fails color contrasts. Scream.
"Changing a button colour or text may give you a conversion increase but if you haven't had any dialogue with your users you have no idea if you're giving them what they expect, need and want. It's these things that have the biggest impact. Not only will it inform your design now, but everyone in the company will have a greater understanding of the user and what they want, which can lead to better future ideas." Source: Persuasion within design: Use It or Lose It
People are attracted to pictures. Eye tracking studies consistently show that humans are wired for visuals. However, you can't simply toss up stock photos. Bryan Eisenberg has a fun story to tell where he found that men and women look at images of cars differently. I remembered that story when I went car shopping a few months ago. I was interested in the body color, interior and how the driver's seat felt. While I was chatting it up with the salesman, my husband was out checking the tires, engine and trunk. We experience everything differently from one another.
Using stock photos is okay if you know which ones to use for your target users. I've been using my own photos taken with my camera or cell phone because they look more realistic. Once again, it's about being real.
These are a few ideas to get you thinking about persuasive content for your web pages. There's no time like the present to change your content. Amazon never looks the same because they keep adapting to the needs of their customers. If you need inspiration for new content, take a walk outside and commune with nature. Take off your shoes and walk barefoot in the grass or on a beach. Record in your head every sight, sound and feeling. Was there a sunset with vibrant colors? Did you burn your feet on hot sand or soothe them on cool grass? Did squirrels scamper about or seagulls dive at you? This is a real human experience.
Now, write about it. Persuade your readers to take off their shoes too. Make them feel confident and special. Let them know you care.
---
Photos and screenshot by Kim Krause Berg