I am a huge believer in content. Providing great trendy content is by the most reliable and efficient way to market your site. No wonder many internet marketing companies are switching to various content marketing services.
However producing great content on a regular basis may be overwhelming (and as many people believe, impossible). Coming up with new and new great and popular article ideas is something we are all struggling with. Therefore organizing and streamlining your brainstorming process is so important.
I have come up with three efficient ways to create a content brainstorming dashboard (feel free to try them and stick to any or all):
---
Content Brainstorming Dashboard #1: Aggregate and Filter Your Sources
We all have some individual sources of inspiration. To me these are:
Find the hottest trending stories that are being shared all over the social networking spectrum here. They have several ways of finding content. The first is seeing the most popular on the front page. Then you can go by category, like Politics, Tech, Lifestyle, Sports, Animals, What's Hot and More. Above that are more specific items, under LOL, WIN, OMG, Cute, Geeks, Trashy, FAIL and WTF.  (You can choose your RSS options here)
Known as the first to often catch any technology related news, especially where it is trending, Tech Meme is one of the most popular sites that is still rarely talked about. You can see top news or what is newly released. The format is really simple, and they have a search bar if you find you need something specific. One useful element is a ranked list of their top sources, which is worth checking out. (RSS feed is available here)
I am a tool gal, so it's quite natural that I love tracking the above sites for new tool reviews and round-ups. There are other numerous options here but I have found the above three quite exhaustive.
If there's anything hot under the sun, chances are, it's been already "infographed". Tracking new infographics is one of the best ways to come up with cool content ideas (especially round-ups). Besides, infographics are created for re-publishing, so re-using them is not only legit but highly encouraged.
Again, quite a few options here, but I like Visual.ly because they have a very handy RSS feed that displays an infograph thumbnail and short description.
So now that we have determined the sources, let's aggregate them!
The tool I am using here: Yahoo Pipes!
I have created a Pipe here that unites all my inspiration sources and lets me search them by a keyword.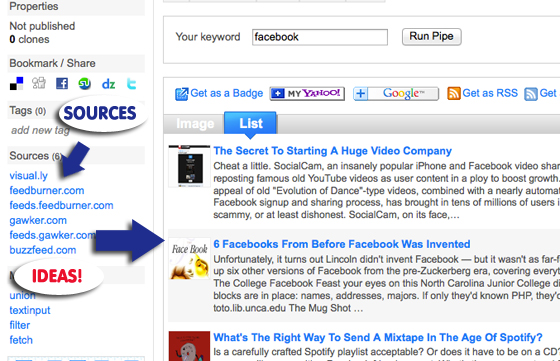 Feel free to use mine or (if you have other sources of inspiration) login, clone my pipe and create your own. All you need to do is to:
Grab your own RSS feeds;
Copy-paste them in "Fetch Feed" modules and click "Safe"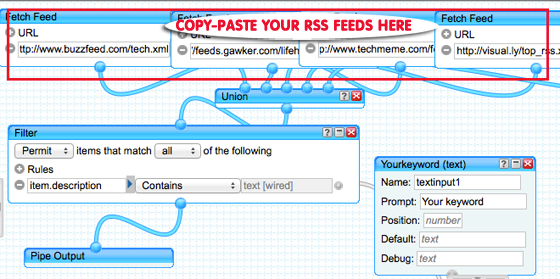 Now you can search your new aggregated feed by your relevant keyword and subscribe to new results. You can subscribe by RSS or even email (through Yahoo! Alerts)

---
Content Brainstorming Dashboard #2: Google Spreadsheet
This one is already created. You don't need to do anything except for:
Copying it;
Searching your copy for your keyword;
Scan through results for interesting ideas.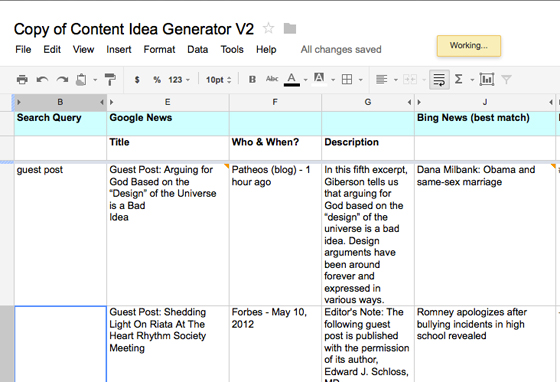 The brainstorming spreadsheet aggregates search results from the following sources:
Google News;
Bing News;
Digg (most dugg and most recent)
Reddit (Top)
YouTube (Top rated)
Topsy (latest)
Blog catalog;
Yahoo! Answers;
Twittorati Search;
AllThingNow (Most Popular FB shares)
Fark (Latest and Most Popular);
How Stuff Works;
Redux;
Helium;
Cracked;
UberSuggest
You are free to hide any of the columns if you want less (depends on your niche):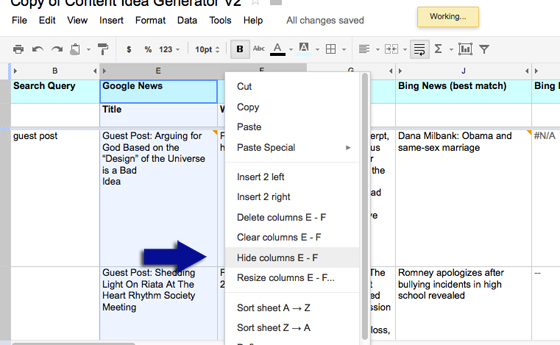 ---
Content Brainstorming Dashboard #3: Hot Trend Tracking
Trend tracking is a must if you are into content marketing.
The Internet is a whirlpool of information. Graphs, memes, articles, whole books, movies and albums, shopping carts, pictures, personal comments list goes on and on. Most of the stuff on the web you will never see, much less use. It is constantly updated and often what is posted will become obsolete within days, even hours.
There is just too much to shift through, and blind searches aren't helpful. Endless supplies of topics will leave random search attempts for the sake of finding trends an empty endeavor.
Having a list of trend tracking tools by hand when you are stuck will improve your content brainstorming productivity. When trying to come up with a good post idea, try visiting one of these trend tracking dashboards: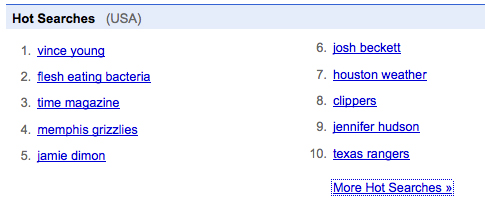 ---
Conclusion
Traditionally we think that the creative process is counter-productive. You need time to brainstorm. In today's world most of us don't have time at all but we brainstorm a lot. How do you increase your brainstorming creativity? Please share your ideas in the comments!
cc licensed ( BY ) flickr photo shared by Robert Couse-Baker (off line for training)