Hi, I'm Lisa and I'm codependent. Don't judge me, you are too.
I'm getting caught up after spending the past few days hobbling around Affiliate Summit (you can find coverage for Day 1, Day 2 and Day 3 at Hoffman's House) and stumbled across an interesting poll recreated by TechCrunch. The question at hand was: "What would make you switch search engines?"
This morning the results looked like this: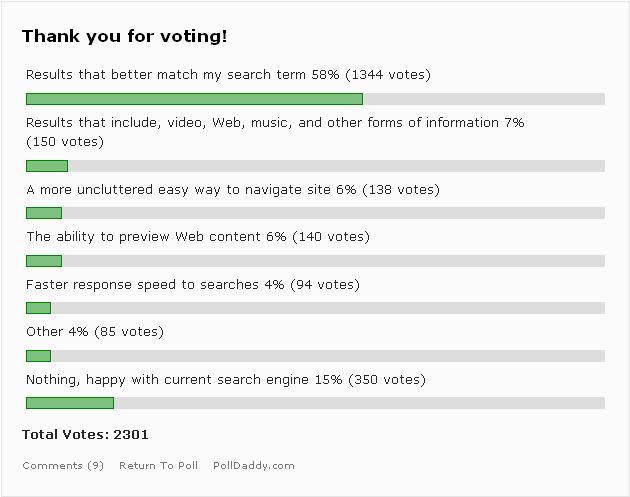 [click to enlarge. floss regularly.]
I know now that 58 percent of you are damn liars.
Like I said, I'm what some would call "codependent". I willingly stay in unhealthy relationships, I invest in losers, and I repeatedly take people back lying to myself that they can change.  Basically, I'm an idiot. And you probably are, too.
The reason you originally switched from Yahoo to Google back in the day was because Google was the far superior engine. It kicked ass at everything it did and was undeniably the best choice. And they've done a good job maintaining that awesome. The search results are typically to be trusted, there's Gmail and GDocs, as well as a whole suite of products designed to make your life easier.  However, the quality of products isn't why people stay with Google.  How many blind tests have been done to show that the quality of the results is less important than the brand name placed at the top of the engine? I'm pretty sure I've read more than a handful over the years.
The truth is you stay with Google for the same reason I've stayed with a slew of crappy ex-boyfriends. Because it's been there for you, because it's broken in, because it's socially acceptable, and because it's really, really pretty.
Adding video to the search results or uncluttering things won't make someone change. I don't even know that Yahoo could change enough that most people would care. The only reason people will leave Google is if something drastically different AND better comes along or if Google commits some sort of brand suicide.
I spent some time thinking about it and here's my list of what Google would have to do to make me leave them.
They'd have to:
Leak my Data/Private Information ala AOL
Take their "tweaking" of the results WAY too far
Start charging me for services like Gmail
Sell off the engine/acquire someone else's and completely murder its relevancy
Aside from that, I think the Google bar code that's been discretely branded on the back of my neck is safe. I asked Twitter what it would take to breakup with Google and their answers were surprisingly similar to my own.  Well, except for Chris Winfield and Jim Hedger who said Google would have to start slaying puppies and kittens, respectively.  I agree with both of those, assuming they were cute puppies and kittens.
I think we like to tell ourselves that the reason we stick with Google is for the quality of the results. It makes us sound like we're free and independent thinkers. But we're not. The truth is we stick with Google because we've been told to. And we'll stay there until we're told to do something different. If we're going to be codependent, let's at least be honest about it.
Or maybe I'm wrong. Would it take anything less than puppy killing for you to abandon Google?