I'm blogging in a new home these days. So, for those who are just meeting me. Hi, I'm Lisa. I used to be a really big Ask.com brand evangelist. And then they embarrassed me and broke my heart. Now I respond to their name the same way all scorned women do €" with violence and irrational behavior.
I want to punch Ask.com in the throat.
Back in March when Ask.com officially jumped the shark and stopped caring about its search engine, I broken heartedly-asked Barry Diller to please let the engine he murdered die quietly. Just let it fade away and ride off into the sunset the same way we had all assumed Jeeves did before we heard about his lucrative porn career. But Barry couldn't do that. He had to pretend that the engine still had life, that he hadn't just cut the cord, that it was still a viable search engine out there competing with Google and Yahoo. And because he did that, now we get to watch it die piece-by-piece, publicly and in a fashion that disrespects everyone who once loved it. Ask.com is suddenly the guy that broke your heart and then continued to stomp on it by dating all of your friends. Even the fat, ugly ones.
What's today's depressing Ask news, you ask? Well, Barry Schwartz reports on a WebmasterWorld thread that shows how Ask.com's search technology is falling apart at the seams.
Someone hold me.
In the thread, a WebmasterWorld member makes a ridiculous claim that Ask is so completely borked that the number of results they're showing per page varies between 10-3 based on the query.  Nonsense, right? There's no way Ask had sunk so low that they'd only show a handful of results on a page.
I introduce you to page four of the SERPs for [cloud]. [Or at least how it looked when I conducted the search about an hour ago.]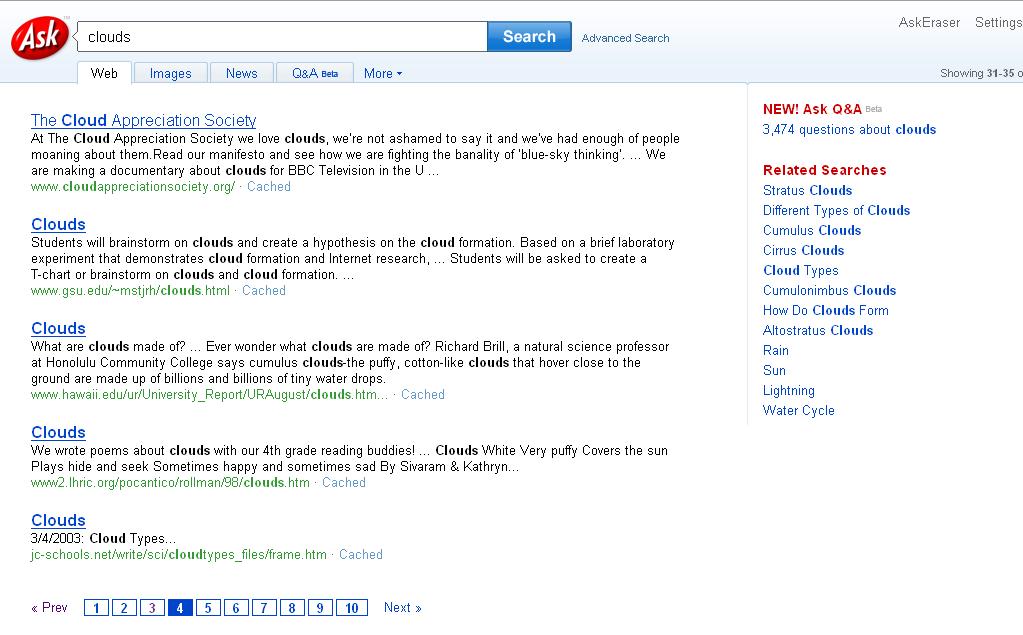 There are five results. Five! And the page after that has eight. And then they're back to five.
Do a search for [socks], and though they claim to have over 51 million pages on the topic, page three contains zero organic results.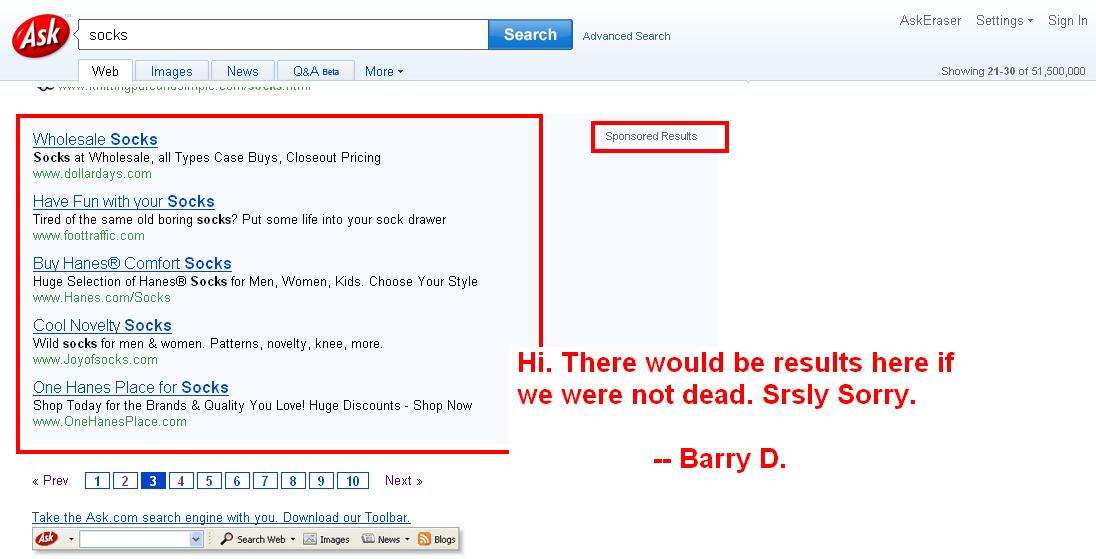 There are, however, results on page four. And aren't they pretty? Title Tag optimization, FTW!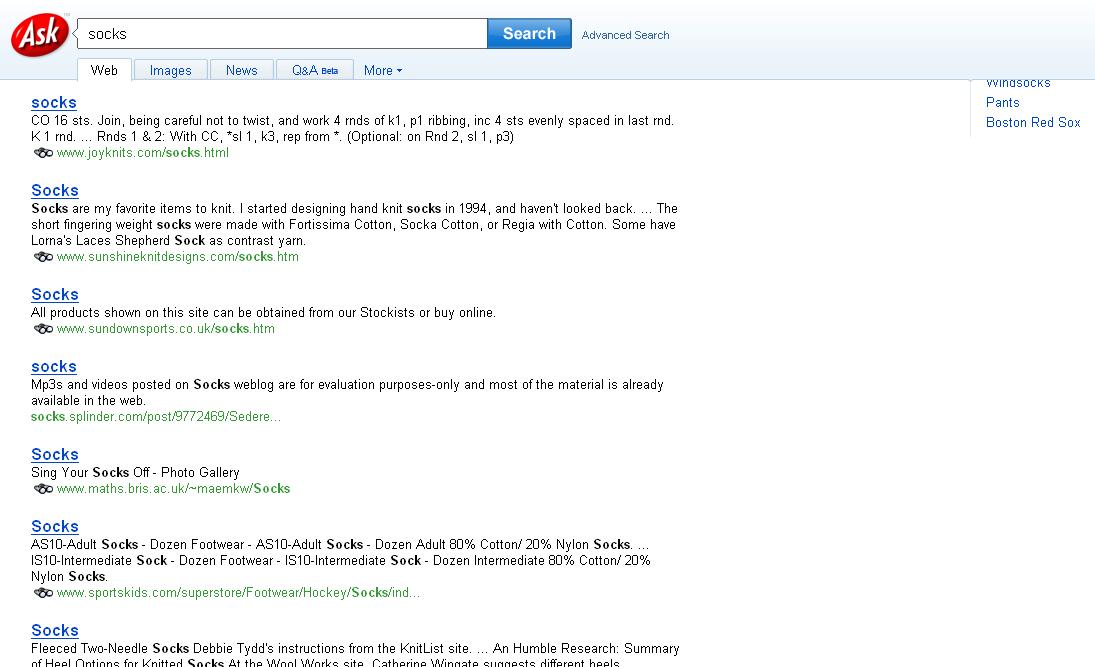 I should note that I didn't go hunting for these examples. I chose two single-word phrases and got two sets of embarrassingly-stellar results right off the bat. And all that leads me to one question:
Ask, what the hell are you doing?
To all the Ask.com reps who emailed and called and took me aside at conferences trying to convince me that there was life in Ask.com's eyes, I don't want to hear it. As someone who once loved all that you represented and stood for, you're embarrassing yourself now. Accept that you've been hit by the car of Google and go whimper off somewhere to die like all good dogs do. Otherwise we're coming with the shotgun.