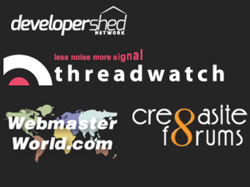 This week our roundup of notable threads in our SEO communities will answer your questions, confirm your suspicions, make you laugh, make you paranoid, and generally keep you entertained. You'll get everything from practical tips to hilariously controversial comments about…well, just keep reading.
---
Threadwatch
This week we learned that what we knew all along about Google giving its own content preferential treatment in its results is true – or did we? And we also saw just how much money talks when it comes to journalism.
---
SEO Chat
SEO Chat remains the place to go to get your SEO education. This week, among many other topics, we examine whether to use WordPress or go with a custom build for your website, and how to handle banner ads.
---
Cre8asite
This week on Cre8asite you could find thread to entertain as well as enlighten. News from Intel offered food for thought, especially for those of you familiar with literature or of a paranoid bent; meanwhile, if your popularity extends beyond your native language, don't worry, Google understands.
---
Webmaster World
Finally, our members over at Webmaster World took a unique view of potential "uses" for Google's disavow links tool, and examined the bizarre lawsuit Facebook just got slapped with pertaining to patents surrounding their "Like" button.
That's all for this week. Until next time, stay chatty!