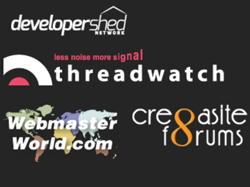 Sometimes rough-and-tumble, often contentious, frequently entertaining, but always educational: that describes our SEO communities in a nutshell. So what has everyone been up to this week? I'm so glad you asked.
---
Threadwatch
We'll kick off with Threadwatch. It's definitely not "all Google, all the time" here, but the search giant did seem to inspire the largest amount of buzz this week.
---
SEO Chat
Touching on some very practical issues of ranking, the members of the SEO Chat forums found themselves dealing with ranking challenges, Google bugs, and the inevitable question of quality.
---
Cre8asite
Cre8asite seemed to be THE place to ask questions and discuss the future this week, as registrars, accessibility issues, and authorship verification and more all came up in various threads.
---
Webmaster World
Finally, over on Webmaster World, advertising came up as a major issue.
That's all for this week. Until next time, stay chatty!